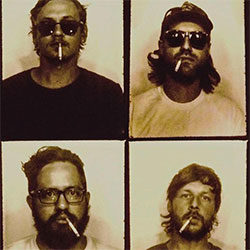 CENTURIES is preparing for the release of their second LP, The Lights Of This Earth Are Blinding, through Southern Lord late this month. Advancing the record's street date, the new single "The Endless Descent" has been premiered through an exclusive feature at Blow The Scene.
In a new Creation Formula series, Blow The Scene interrogates CENTURIES on the process behind the creation of their new LP, noting of the album, "Fusing elements of dissonant hardcore, d-beat punk, and a knack for walloping tones, the band has taken the last five years and honed the overall sound and writing approach. This latest effort affords a new level of intensity and artistry."
Check out the feature on CENTURIES and stream "The Endless Descent" HERE.
Southern Lord will release CENTURIES The Lights Of This Earth Are Blinding on LP and digital formats on January 26th, 2018.  Find preorders at the label webstore HERE and Bandcamp where the track "Bygones" is streaming HERE.
CENTURIES will tour Europe for the fourth time in April and May alongside Portrayal Of Guilt, with additional international as well as stateside tour dates to be expected this year. Stand by for an official video from the album and more to see release in the days ahead.
CENTURIES w/ Portrayal Of Guilt:
4//28/2018 Klex – Greifswald, DE
4/29/2018 Gothenburg – Sekten, SE
4/30/2018 Firestorm Fest – Stockholm, SE
5/01/2018 TBA – Malmö, SE
5/02/2018 TBA – Copenhagen, DK
5/03/2018 TBA – Hamburg, DE
5/04/2018 Utrecht Fest – Amsterdam, NL
5/05/2018 Privat – Cologne, DE
5/06/2018 Kavka – Antwerp, BE
5/07/2018 La Comedia Michelet – Paris, FR
5/08/2018 TBA – CH/FR
5/09/2018 Juha West – Stuttgart, DE
5/10/2018 TBA – Bielefeld/Weimar, DE
5/11/2018 Miss The Stars Fest – Berlin, DE
Formed in 2008 in South Florida, the current CENTURIES lineup now includes members based in Pittsburgh, Pennsylvania and Nashville, Tennessee, and in the UK from Manchester. Since their 2013 debut Taedium Vitae (Southern Lord), the group have refined their sound into something more focused, and intense, and The Lights Of This Earth Are Blinding surges with ten new tracks of the band's harrowing, metallic, punk/crust-influenced hardcore, delivered with a calculated, very deliberate approach. The album was recorded in February 2017 by Kris Hilbert at Legitimate Business (Catharsis, Torch Runner, The Body), mastered by Brad Boatright at Audiosiege (Integrity, Black Breath, Halshug), and completed with artwork by Phil Trona.
For review copies of The Lights Of This Earth Are Blinding and interviews with CENTURIES in North, Central, and South America contact dave@earsplitcomound.com and in Europe contact lauren@rarelyunable.com.
http://centuriesfl.bandcamp.com
https://www.facebook.com/centuriesfl
http://www.southernlord.com
http://southernlord.bandcamp.com
https://www.facebook.com/SLadmin
http://twitter.com/twatterlord