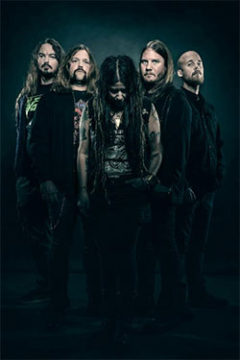 As Southern Lord prepares to release Awaken, the epic fourth full-length from Swedish crust/metal outfit AGRIMONIA, the album's opening track has been premiered through Revolver Magazine.
Awaken was produced by AGRIMONIA, then mixed and mastered by Henrik Udd, who also worked on the band's prior LP, Rites Of Separation, then under the Studio Fredman banner but now under his own name, Henrik Udd Recording Studios.
The band offers, "The opener of the album, 'A World Unseen' is for us a representative AGRIMONIA track, bringing in elements from our earlier material, while existing in the present and looking to the horizon. It sets the tone very well for the rest of the album."
Revolver writes that the new track, "finds the five-piece moving fluidly from mid-tempo crust to soaring post-rock to black & roll to somber acoustic passages in the span of nine minutes, none of it feeling out of place or forced – just challenging and forward-thinking."
Stream AGRIMONIA's "A World Unseen" at Revolver Magazine RIGHT HERE.
Southern Lord will unveil Awaken next Friday, January 26th on CD, LP, and digital formats. Stream the title track "Awaken" with digital preorders at Bandcamp HERE, and find physical preorders at the Southern Lord webstore HERE.
Awaken arrives ten years since the release of AGRIMONIA's first album, and the band has evolved notably over that period. While their sound has always been dense, immersive, ambitious even, on Awaken, the band has evolved their prog-infused form of expansive metal into something energetic, dynamic, and powerful. On Awaken, the band digs deep into their subconscious, trying to get an elevated state of mind, to connect the mind with sound and to find the combination of notes and melodies that evolves into a feeling or mood. AGRIMONIA channels the bittersweet aspects of life, and breathe air into thoughts that cannot easily be put into words.
For review copies of Awaken and interviews with AGRIMONIA in North/South America contact dave@earsplitcomound.com and in Europe contact lauren@rarelyunable.com.
https://www.facebook.com/agrimonia.swe
https://agrimoniasl.bandcamp.com
http://www.southernlord.com
https://www.facebook.com/SLadmin
http://twitter.com/twatterlord