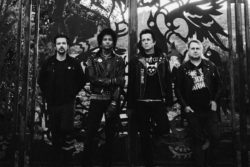 Southern Lord presents Gloom Ballet, the debut LP by Los Angeles-based dark punk act, THE WRAITH. As the anxiously awaited album nears release this Friday, it is now streaming in its entirety exclusively through Kerrang! Accompanying the piece, the band's own Paul Rogers provides a detailed feature on the history of THE WRAITH and their place in the LA punk circuit.
Influenced by the likes of Killing Joke, T.S.O.L., and Samhain THE WRAITH's post-apocalyptic Gloom Ballet delivers twelve infectious tracks. The album was recorded by Puscifer guitarist/producer Mat Mitchell, mastered at Audiosiege by Brad Boatright (From Ashes Rise, Tragedy, Alaric), completed with artwork by Rebecca Sauve.
Stream THE WRAITH's Gloom Ballet exclusively through Kerrang! at THIS LOCATION.
Gloom Ballet will be released worldwide via Southern Lord on November 29th. Find preorders at the label webshop HERE and Bandcamp HERE.
THE WRAITH was founded by imposing frontman Davey Bales, formerly of Virginia peace-punks Lost Tribe, and Kaz Alvis shortly after they both (separately) washed up in Los Angeles. Their irresistibly distinctive sound – skeletal basslines and tribal beats propelling Alvis' textured swathes beneath Bales' poetic, anguished bark – immediately gained a following, with homemade demo Comatic Romance racking-up thousands of YouTube views. Convulsive, chaotic West Coast US shows honed the songs that became THE WRAITH's lauded 2017 EP, Shadow Flag.
Several videos and lineup changes later – the band now completed by former Blink-182 drummer Scott Raynor and Brit bassist Paul Rogers – their evocative songwriting and pure-punk authenticity earned the ear of Mat Mitchell, who has worked with Love And Rockets, The Flaming Lips, Meat Puppets, King Crimson, and more. Mitchell recorded the band's debut LP, Gloom Ballet, and earlier this year, the band signed to Southern Lord Recordings for the worldwide release of the album.
For review copies of Gloom Ballet and all interviews and coverage of THE WRAITH in North America contact dave@earsplitcompound.com and internationally contact lauren@rarelyunable.com. 
https://thewraithpunk.bandcamp.com
https://www.facebook.com/TheWraithPunk
https://www.instagram.com/TheWraithPunk
http://www.southernlord.bandcamp.com
http://www.facebook.com/SLadmin
http://www.twitter.com/twatterlord