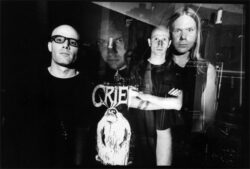 The group's debut album will be available on vinyl (as originally released in 1999 on CD/LP by Man's Ruin). In stores August 29th, pre-orders are available now.
Formed in 1996, Goatsnake was an ultra-heavy, blues-doom powerhouse consisting of guitarist Greg Anderson (Engine Kid), vocalist Pete Stahl (Scream, Wool) and the mega rhythm section of Greg Rogers (drums), Guy Pinhas (bass) from underground heavy legends The Obsessed. The band's tenure has ebbed and flowed for over two decades, leaving behind a legacy of legendary live shows and classic albums and EP's.
Goatsnake's classic debut album— appropriately entitled 1 (one)— was originally released by Man's Ruin Records in 1999 on CD and LP formats. The album featured 8 songs that gracefully combined monolithic, Sabbath-y riffs with soulful vocals to create a monumental introduction to the band, and a style that would be influential for years to come. Southern Lord went on to re-release 1 on double LP format with Goatsnake's Dog Days EP + bonus tracks as its B-side in 2004, which is long out of print on vinyl (available on CD/Digital).
On August 29th, 2022, Southern Lord will release 1 as a standalone LP. Vinyl (color + black formats) will feature the 8 original tracks as they initially appeared on CD as a permanent essential vinyl classic of the Southern Lord vinyl back catalog.
Preorder 1 now via Goatsnake's North American web store, European web store, or on Bandcamp (for Juneteeth, a portion of proceeds will go to the NAACP Legal Defense Fund). Revisit 1's smashing album opener "Slippin' the Stealth" on YouTube.
Goatsnake 1 track listing:
Innocent
What Love Remains
IV
Mower
"Dog Catcher"
Lord of Los Felix
Trower