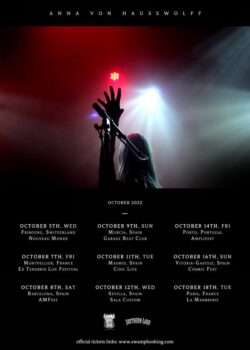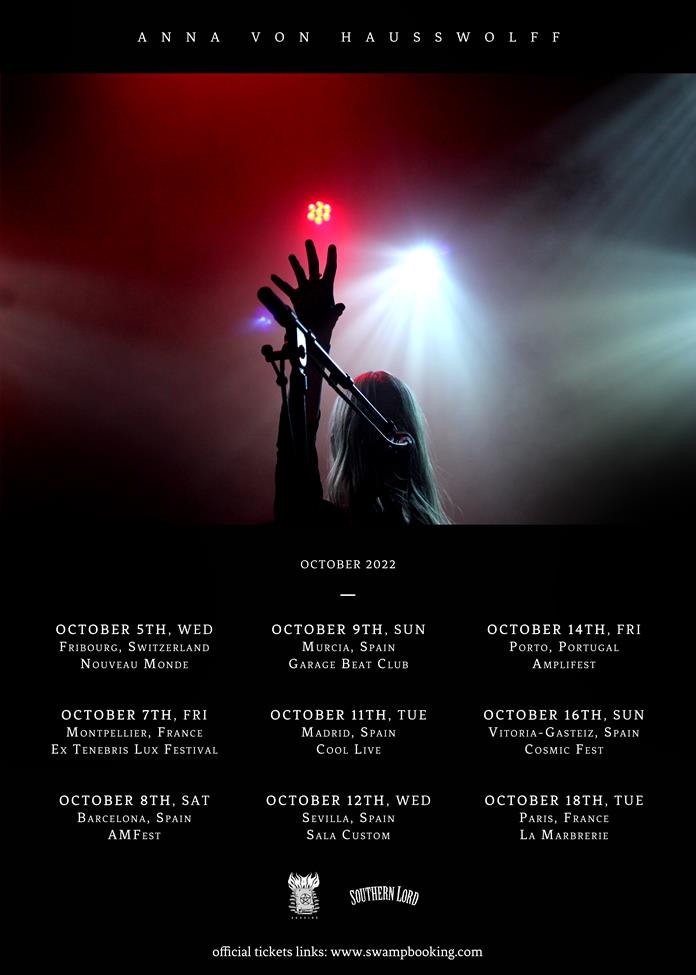 LIVE AT MONTREUX JAZZ FESTIVAL OUT NOW
Anna von Hausswolff has just announced full-band live dates this October in Switzerland, Spain, France and Portugal. Dates and details below, and tickets are available at www.swampbooking.com.

Anna shall be performing songs from The Miraculous, Dead Magic, All Thoughts Fly, including some new pieces also. Expect shifts of hypnotic and mantra-like moods to thunderous drama, dissonance and cacophony, as the musicians wield immense power and master playful dynamics.
ANNA VON HAUSSWOLFF FULL-BAND LIVE DATES IN OCTOBER
5 Oct – Fribourg, Switzerland, Nouveau Monde (tickets)
7 Oct – Montpellier, France, Ex Tenebris Lux Festival (tickets)
8 Oct – Barcelona, Spain, AM Fest (tickets)
9 Oct – Murcia, Spain, Garage Beat Club (tickets)
11 Oct – Madrid, Spain, Cool Live (presales in July)
12 Oct – Sevilla, Spain, Sala Custom (presales in July)
14 Oct – Porto, Portugal, Amplifest (tickets)
16 Oct – Vitoria-Gasteiz, Spain, Cosmic Fest (tickets)
18 Oct – Paris, France, La Marbrerie (tickets)
This year, Anna von Hausswolff has released the phenomenal live album, Live at Montreux Jazz Festival via Southern Lord and Pomperipossa Records. LP formats of the album available via Southern Lord in North America, and via Pomperipossa Records in Europe.
"Her voice alone sounds like it could tear open the sky at any moment… Like an industrial call to prayer." – THE QUIETUS
"truly remarkable." – DISTORTED SOUND
"Sonic majesty" – METAL HAMMER
"it's unlikely there'll be a better live album this year." – AURAL AGGRAVATION
"striking and unconventional" – AVANT MUSIC NEWS
"utterly captivating" – HIGHER PLAIN MUSIC
REVISIT "THE MYSTERIOUS VANISHING OF ELECTRA (LIVE)" AND "THE TRUTH THE GLOW THE FALL (LIVE)" BELOW:
FOR MORE ON ANNA VON HAUSSWOLFF