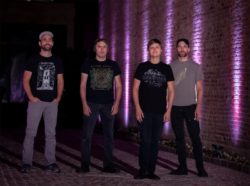 Stream / Share PELICAN's "Cold Hope" OUT NOW.
PELICAN, the instrumental quartet whose singular vision of heavy music eschews classification, recently announced their first full-length in six years, and today they've released a new song from it, along with US and new EU tour dates.
"Cold Hope," the second track to be released from Nighttime Stories – due June 7th via Southern Lord Recordings – is an unrepentant crusher imbibed with moments of atramentous psychedelia and is arguably the heaviest track on the album. Not only a standout song on the album, it's also the name of a new biere de garde that the band members, who are known beer enthusiasts, are releasing in collaboration with the celebrated Chicago brewery Metropolitan.
Of the collaboration, the band's Trever de Brauw states, "Both PELICAN and Metropolitan have somewhat limited scopes due to aesthetic limitations we've self-imposed: PELICAN will always be a niche enterprise because we play instrumental metal; Metropolitan's brewing output is limited due to the fact that they only brew lagers, which take much longer to brew than ales and therefore tie up the capacity of their equipment. Thus, both of us are pursuing a very specific aesthetic/artistic mission and creating a legacy rather than doing things that might be more immediately profitable." For Chicago-area folks keen to try the beer and get an advance listen of Nighttime Stories, the band and brewery will be throwing an album listening/beer release party at 7pm on May 30th at Metropolitan Taproom, 3057 N Rockwell St.
Stream PELICAN's new track "Cold Hope" now at THIS LOCATION.
Southern Lord will release PELICAN's Nighttime Stories on June 7th. Preorders for the album in all formats starts today via the label webshop HERE and Bandcamp where "Midnight and Mescaline" is also streaming HERE.
With sold-out shows in Boston, Philadelphia, and Pittsburgh, PELICAN has also announced an additional batch of US dates that include Champagne, Cleveland, Columbus, and Grand Rapids, along with a fall EU tour. Find tickets for upcoming tour dates HERE and watch for additional tour dates and announcements from PELICAN to be posted shortly.
PELICAN Tour Dates:
w/ Cloakroom:
6/20/2019 Loving Touch – Ferndale, MI *
6/21/2019 Lee's Palace – Toronto, ON *
6/22/2019 Bar de Ritz – Montreal, QC *
6/23/2019 Great Scott – Boston, MA * SOLD OUT
6/24/2019 Brooklyn Bazaar – Brooklyn, NY *
6/25/2019 Boot & Saddle – Philadelphia, PA * SOLD OUT
6/26/2019 Ottobar – Baltimore, MD *
6/27/2019 Club Café – Pittsburgh, PA * SOLD OUT
6/28/2019 Northside Yacht Club – Cincinnati, OH *
6/29/2019 Metro – Chicago, IL *
9/13/2019 Loose Cobra – Tolono, IL
9/14/2019 The Shrunken Head – Columbus, OH
9/15/2019 Grog Shop – Cleveland, OH
9/16/2019 The Pyramid Scheme – Grand Rapids, MI
10/05/2019 Soulcrusher Fest – Nijmegen, NL
10/06/2019 Lido – Berlin, DE
10/07/2019 Beatpol – Dresden, DE
10/08/2019 Futurum – Prague, CZ
10/09/2019 Feierwerk – Munich, DE
10/10/2019 Legend Club – Milan, IT
10/11/2019 Fuzz Club – Athens, GR
10/12/2019 AM Fest – Barcelona, ES
10/13/2019 Amplifest – Porto, PT
10/15/2019 Islington Assembly Hall – London, UK
10/16/2019 Gorilla – Manchester, UK
10/17/2019 Classic Grand – Glasgow, UK
10/18/2019 Asylum – Birmingham, UK
10/19/2019 Desertfest – Antwerp, BE
Nighttime Stories marks PELICAN's first release written front to back with guitarist Dallas Thomas, who took over guitar duties upon founding member Laurent Schroeder-Lebec's departure in 2012. In the process of writing the album, the quartet endured a slew of realizations, tragedies, and glimmers of optimism that guided the creative process to the most potent work of their nineteen-year career.
Nighttime Stories was an album title initially proposed for Tusk, the hallucinatory art-grind band that included PELICAN members Trevor Shelley de Brauw, Larry Herweg, and Schroeder-Lebec, in addition to vocalist Jody Minnoch. The writing of Nighttime Stories was instigated shortly after Minnoch's unexpected death in 2014, and some of the dissonant viscera and dark psychedelic structures that were characteristic of Tusk's sound began to unconsciously inform the album's direction. In homage to their departed colleague, PELICAN applied the previously discarded title and pulled many of the song titles from notes Minnoch had sent to inspire the direction of the unrealized album. As the writing of Nighttime Stories progressed Thomas also experienced a heavy loss with the passing of his father, to whom the album pays tribute on opening track "W.S.T." (on which he performed his guitar parts on his father's Yamaha acoustic).
For review copies of Nighttime Stories and interviews/coverage of PELICAN in The Americas contact dave@earsplitcompound.com and internationally contact lauren@rarelyunable.com. http://pelicansong.com https://www.facebook.com/pelicansong