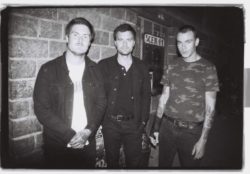 Copenhagen, Denmark-based trio HALSHUG will release their third studio full-length, Drøm, through Southern Lord Recordings. Now confirmed for release on July 19th, the album's cover art, track listing, preorders, and more have been issued, and a video for the lead single, "Fantasi," has been premiered through Cvlt Nation.
On Drøm, HALSHUG expands their sound from the dirge-driven d-beat of their earlier albums Sort Sind (2016) and Blodets Bånd (2015), and explores the dynamics of longer songs, more audible lyrics, and altered tempos, which result in different shades of industrial, dark-wave, and post-punk. Drøm was recorded by Simon Sonne (Orm) in Copenhagen, mixed at Dead Air Studio in Western Massachusetts (The Men, Warthog), and mastered by Peter Peter (The Sods, Bleeder).
HALSHUG offers their first single from Drøm with a video for the track "Fantasi," which was shot by the band with a phone and directed/edited by Christopher Leo Andersen. "Fantasi is the third song on our new record. It's a song about getting lost in each other's fantasies," the band offers. The "Fantasi" video makes its debut through a premiere hosted by Cvlt Nation.
See HALSHUG's "Fantasi" video via Cvlt Nation RIGHT HERE.
Southern Lord, who has delivered HALSHUG's prior two LP's, will release Drøm on LP and digital formats worldwide on July 19th. Find digital preorders at Bandcamp where "Fantasi" is streaming HERE and watch for vinyl preorders and bundles to be posted in the coming days.
According to HALSHUG, the title Drøm (translated to "dream") refers to a wider theme of the record which views dreams as, "a succession of images, ideas, emotions, and sensations that occur involuntarily in the mind. And also, sort of a vision, or a wanting of something more than just what is. The dream is volatile. It can burst. One moment it felt real, and moments later it can't even be recalled."
Other ideas come into play too, as the HALSHUG members describe, "A lot of the songs are about mirrors. The intimacy that is in privacy, alone with oneself. And the cathartic moments where interaction becomes wordless. They are mostly scenes or clips from dreams, that could have looked like either old movies or scenes from the hang-out area at a rave. Some of them are recollections of things that have happened, but most of them are dreamt or felt. Some songs are about dominance and submission, about letting go, either trusting or just not caring. Some of them are also statements, metaphorical or literate, about being subordinate as an individual in a complex power structure."
To summarize on their intent, the band remarks, "The whole idea is to create a medium through which we can forward true human energy. It's about lust, guts, and a protest against reality. A wish of life. It's not important to us what genre we end up playing, it just happened to be like this."
HALSHUG is also actively booking live actions around Europe, with new tours in May and September already posted and more in the works. Watch for updates to be issued through throughout the year in support of the new LP.
Drøm Track Listing:
Kæmper Imod
Dø Igen
Fantasi
Giv Alting Op
Spejl
02.47
Tænk På Dig Selv
Ingen Kontrol
Et Andet Sted
Illusion
HALSHUG Tour Dates:
5/17/2019 Kasteneinkeller – Berlin, DE
5/18/2019 Ask A Punk – Hamburg, DE
5/22/2019 Sportamt – Bremen, DE
5/23/2019 OCCII – Amsterdam, NL
5/24/2019 The Pits – Kortijk, B
5/25/2019 Pitfest – Frica, NL
9/07/2019 Vaterland – Oslo, NO
9/12/2019 1000Fryd – Aalborg, DK
9/13/2019 Radar – Aarhus, DK
9/14/2019 Stengade – København, DK
9/20/2019 Kulturhuset – Gøteborg, SE
9/27/2019 Plan B – Malmø, SE
9/28/2019 Hus 7 – Stockholm, SE
HALSHUG:
Jakob Johnsen – bass/vocals
Mathias Schønberg – guitar
Mads Folmer Richter – drums
Review copies of Drøm will be released in the days ahead. For coverage of HALSHUG in North America contact dave@earsplitcompound.com and internationally contact lauren@rarelyunable.com.
http://halshug.blogspot.com
http:// https://halshug.bandcamp.com
http://www.southernlordeurope.com
http:// https://www.facebook.com/halshugcph
http://www.southernlord.bandcamp.com
https://www.facebook.com/SouthernLordRecordingsEurope/
http://www.twitter.com/twatterlord