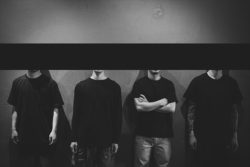 Japan's FRIENDSHIP returns with their merciless new album, Undercurrent, set for vinyl release through Southern Lord on June 14th. Following its CD release through Daymare Recordings earlier in the year, preorders for the LP version have been posted and several tracks from the album are available for streaming.
FRIENDSHIP offers vile, antagonistic, and visionary blackened, sludge-tone hardcore, focused on delivering maximum auditory torture, with the blasting directives of Full Of Hell, Nails, and Infest, backed with the oppressive tonal amplification of Sleep, Coffins, or Iron Monkey. The band is now revered as one of the heaviest modern acts in Japan.
Their second LP, Undercurrent showcases FRIENDSHIP's hybrid of ultra-heavy doom sludge/powerviolence as audible torture. With a more technical and precise attack, and a brighter and sharper tone than the preceding Hatred LP, all tracking, mixing, and mastering duties for Undercurrent were handled in Tokyo throughout 2018. The resulting album strikes hard with ten relentless tracks delivered in just over twenty-two minutes.
Stream the tracks "Demise," "Vertigo," and "Fiend" from FRIENDSHIP's Undercurrent at Bandcamp HERE.
Just like with the Hatred LP, Daymare Recordings handles the release of FRIENDSHIP's Undercurrent digitally and on CD, and now Southern Lord delivers the vinyl on Friday, June 14th. Find preorders at Bandcamp HERE and find merch options and bundles at the Southern Lord US webshop HERE and Euro shop HERE.
Undercurrent Track Listing:
1. Demise
2. Vertigo
3. Punishment
4. Lack
5. Abandon
6. Fiend
7. Plague
8. Garbage
9. Wrecker
10. Hatred
Following their 2014 formation in the Tokyo area, FRIENDSHIP quickly issued their debut demo cassette, and quickly became known for their monolithic live volume levels and became notorious for releasing over a hundred shirt designs. The band also shortly thereafter self-released two CD EPs which both sold out in under a month (recently reissued as I and II on vinyl and cassette via Sentient Ruin),
FRIENDSHIP signed with Daymare Records in 2016 for the release of their debut full-length, Hatred. Recorded in Tokyo, Hatred was mastered by Brad Boatright at Audiosiege and released on CD and digital versions via Daymare in June 2017. The vinyl version and international digital edition followed through Southern Lord in November 2017, and a cassette version was released by Sentient Ruin.
Over these recent years, FRIENDSHIP has shared stages with Full Of Hell, Sumac, Primitive Man, Endon, Palm, and many others, including supporting the mighty Sleep in Tokyo, as a part of Leave Them All Behind 2018. In September 2018, the band performed at Bloodshed Festival, as well as seven shows across the UK. Immediately following the tour, FRIENDSHIP began the construction of their follow-up album, which now rears its bestial head as Undercurrent.
Watch for FRIENDSHIP tour dates and more to be posted over the months ahead.
For review copies of FRIENDSHIP's Undercurrent in North America contact dave@earsplitcompound.com and internationally contact lauren@rarelyunable.com.