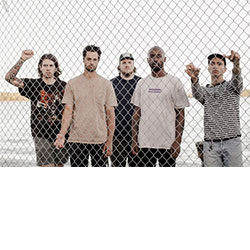 [photo by Tracy Nguyen]
Southern Lord announces the signing of JESUS PIECE, confirming the release of the band's debut LP in 2018. JESUS PIECE is also confirmed to support Darkest Hour on their US tour beginning this week, and has a European tour confirmed for August.
JESUS PIECE is a Philadelphia hardcore band that simply plays what they want to hear, and they work tirelessly to play to everyone they can. Their anthems lyrically range from personal struggle and loss, to racism, police brutality, and many other social and political injustices.
JESUS PIECE formed in 2015 and self-released their first demo/EP in the same year, followed by a self-released EP in the Summer of 2016. Most recently, Bridge Nine Records released a split 7″ between JESUS PIECE and Malice At The Palace earlier this year. The band has paved their own way into the national scene by booking multiple headlining coast-to-coast tours among many bouts of regional touring and performances at notable festivals including This Is Hardcore, Nature World Fest, Sound And Fury, FYA Fest, and others. 2018 will see the band record their debut LP for release through Southern Lord.
Issues JESUS PIECE on the new signing, "Southern Lord is a label we've looked up to for releasing some of our favorite metal and hardcore records, so it's an honor to be a part of it, and we're super excited to put out our first record with them."
Southern Lord owner Greg Anderson states, "JESUS PIECE evokes intense, discordant, angular aggression in the same way certain '90s bands were kicking asses with. Think Deadguy, Kiss it Goodbye, Bloodlet, Disembodied. They fuse this chaos with a brutal modern execution. Southern Lord is extremely excited to be working with JESUS PIECE and can't wait to unleash their debut album upon the unsuspecting hordes."
JESUS PIECE will support Southern Lord labelmates Darkest Hour on their Godless Prophets & The Migrant Flora Tour Part II which begins this weekend, and runs through July 23rd, with shows in Clifton, Virginia Beach, Spartanburg, Orlando, Margate, Tampa, Atlanta, and Fayetteville.
Also, just announced; JESUS PIECE will take August on their first tour international tour, hitting Europe and the UK. The newly-confirmed tour begins August 4th and will run until the last week of August, with the final few tour dates being confirmed. Stand by for a full new tour update in the days ahead.
JESUS PIECE Tour Dates:
7/15/2017 Dingbatz – Clifton, NJ w/ Darkest Hour, Havok [info]
7/16/2017 Shaka's – Virginia Beach, VA w/ Darkest Hour, Havok [info]
7/18/2017 Ground Zero – Spartanburg, SC w/ Darkest Hour, Havok [info]
7/19/2017 Backbooth – Orlando, FL w/ Darkest Hour, Havok [info]
7/20/2017 O'Malley's – Margate, FL w/ Darkest Hour, Havok [info]
7/21/2017 Crowba – Tampa, FL w/ Darkest Hour, Havok [info]
7/22/2017 Masquerade (Hell) – Atlanta, GA w/ Darkest Hour, Havok [info]
7/23/2017 Drunk Horse Pub – Fayetteville, NC w/ Darkest Hour, Havok [info]
JESUS PIECE:
Aaron Heard – vocals
David Updike – guitar
John Distefano – guitar
Anthony Marinaro – bass
Luis Aponte – drums
Updates on JESUS PIECE's upcoming tour dates and debut album will be issued in the weeks ahead. For tour coverage requests and interviews with the band in North America contact dave@earsplitcompound.com and internationally contact lauren@rarelyunable.com.
https://twitter.com/jesuspiecehc
https://www.instagram.com/jesuspiecehc
https://jesuspiecehc.bandcamp.com
http://www.southernlord.com
http://southernlord.bandcamp.com
http://twitter.com/twatterlord
https://www.facebook.com/SLadmin