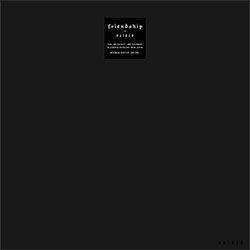 Hatred, the corrosive debut full-length onslaught from Japan's mysterious harsh, doom-fueled crust/hardcore outfit FRIENDSHIP, is now available through Southern Lord, the LP streaming in its cruel entirety.
While FRIENDSHIP's identity remains an enigma, those who have encountered their antagonistic, loud, and murky sonic world, can testify to the sheer power of the auditory torture the band creates. FRIENDSHIP has previously self-released two CD EPs which sold out in a month since reissued as I & II vinyl and cassette version through Sentient Ruin. For their Hatred LP, the band delivers twelve caustic tracks in just over twenty-five minutes, the album recorded in their home city of Tokyo, the album then mastered by Brad Boatright at Audiosiege. Blackened, ominous, and intense, fans of prior Southern Lord releases by Nails, Heartless, Dead In The Dirt, Gust, and similarly devastating acts should not ignore this.
Stream FRIENDSHIP's entire Hatred LP HERE.
Originally released by Daymare Recordings on CD and digital formats back in June, Southern Lord now issues FRIENDSHIP's Hatred on LP format.
Place digital orders for Hatred HERE and order physical product HERE.
Having gained a reputation for extremely loud live shows through playing with the likes of Full Of Hell, Sumac, Endon, and others, FRIENDSHIP will open for Sleep in Tokyo in January. Find more info HEREand watch for international tour dates from FRIENDSHIP to be announced in the months ahead.
FRIENDSHIP Leave Them All Behind 2018:
1/13/2018 Garden – Tokyo, JP w/ Sleep, Mutoid Man, Nepenthes
Stereogum declares of Hatred's vile attack, "tracks like 'Life Sentence' also showcase a riff dexterity and subtle multi-section mastery that evades a lot of genre-adjacent HM-2 steppers… Other bands would labor over a way to get the listener from Point A to Point B. FRIENDSHIP realizes that you don't need much connective tissue if Point A and Point B both kick ass. And that's the takeaway: While fast/slow, particularly punk-fast and sludge-slow, is one of the dustier tropes, to be a legitimate two-tool threat is still rare." Svbterranean's review includes, "From start-to-finish, FRIENDSHIP make quite the name for themselves on this monstrous, unforgivably heavy debut. Despite their name, FRIENDSHIP's music is the furthest thing from friendly." Metal Trenches warns, "Hatred, as the name suggests, is a no frills, no bullshit slice of bitter hardcore and grind with no regard for your eardrums or well-being… Listening to this album conjures images of concrete slabs and dried bloodstains."
For review copies of Hatred in North America contact dave@earsplitcompound.com and internationally contact lauren@rarelyunable.com.
http://www.southernlord.com
http://southernlord.bandcamp.com
http://twitter.com/twatterlord
https://www.facebook.com/SLadmin