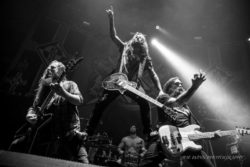 Washington, DC metalcore pioneers DARKEST HOUR begin their co-headlining West Coast tour with Unearth today. The festivities commence tonight in Seattle, with shows in Portland, Orangevale, Los Angeles, San Diego, Scottsdale, Las Vegas, Grand Junction, and Denver through December 15th. 
A month later, DARKEST HOUR will kick off 2020 with a return to Europe for a sixteen-city special 25th anniversary tour, where they'll be joined by special guests Fallujah, Bloodlet, Une Misere, and Lowest Creature.
Produced by Kurt Ballou (Converge), DARKEST HOUR's eleventh LP, Godless Prophets & The Migrant Flora, continues to solidify the band's legacy as a major metal powerhouse. Raw, complex, melodic, yet cutting with razor blade precision, Godless Prophets & The Migrant Flora is a fierce album which shows the long-running band as lethal and ravenous as ever. Following its 217 release through Southern Lord, the band has continued to tour regularly throughout North America and Europe.
Godless Prophets & The Migrant Flora is available on CD, black vinyl LP, picture disc LP, and all digital platforms via Southern Lord; find ordering options at the label's webstore HERE, via Bandcamp HERE, and through all digital providers.
DARKEST HOUR West Coast US Tour w/ Unearth:
12/06/2019 El Corazon – Seattle, WA
12/07/2019 Dante's – Portland, OR
12/09/2019 The Boardwalk – Orangevale, CA
12/10/2019 Club 1720 – Los Angeles, CA
12/11/2019 Brick By Brick – San Diego, CA
12/12/2019 Pubrock – Scottsdale, AZ
12/13/2019 601 Fremont – Las Vegas, NV
12/14/2019 Mesa Theater – Grand Junction, CO
12/15/2019 The Roxy Theatre – Denver, CO
25th Anniversary Tour w/ Fallujah, Bloodlet, Une Misere, Lowest Creature:
1/17/2020 Weiße Rose – Karlsruhe, DE
1/18/2020 Kavka – Antwerp, BE
1/19/2020 Petit Bain – Paris, FR
1/20/2020 Rebellion – Manchester, UK
1/21/2020 Underworld – London, UK
1/22/2020 Willem Twee – Den Bosch, NL
1/23/2020 Conne Island – Leipzig, DE
1/24/2020 Logo – Hamburg, DE
1/25/2020 Bi Nuu – Berlin, DE
1/26/2020 Hydrozagadka – Warsaw, PL
1/27/2020 Arena – Vienna, AU
1/28/2020 Futurum – Prague, CZ
1/29/2020 Dürer Kert – Budapest, HU
1/30/2020 Backstage – Munich, DE
1/31/2020 Kiff – Aarau, CH
2/01/2020 Matrix – Bochum, DE
"The quest that DARKEST HOUR, the DC melodeath warriors, have been on for more than two decades is one that is wholly about tearing faces off with precision, intent, and riffs. The band's most recent album, last year's great Godless Prophets & The Migrant Flora, showcased them knowing exactly what kind of music they wanted to make and how to make it." – Noisey
"This album is full of death metal riffs, savage hardcore pummeling in drums, and melodic beauty, making for a terrific heavy record. Godless Prophets & The Migrant Flora is a work that feels like the good ole days of outstanding hardcore that meets today's brilliant technicality and soaring metal. This is unlike anything that DARKEST HOUR has presented before in their discography, and dare I say it: their best work. 9.5/10″ – Metal Injection
"As rich and ferocious as it is blessedly authentic…a freshly bloodthirsty DARKEST HOUR with a gritty edge and a fretwork at the forefront…With some of the band's early spirit restored, some newly memorable songwriting skills, and superbly euphoric guitarwork, it would seem that DARKEST HOUR plus Kurt Ballou plus Kris Norris is as killer a formula as expected." – Metal Hammer
"They're firmly back on the horse here with a collection of acerbic aural hand grenades…the quintet set about ripping you limb from limb from the outset…A ripper." – Rock Sound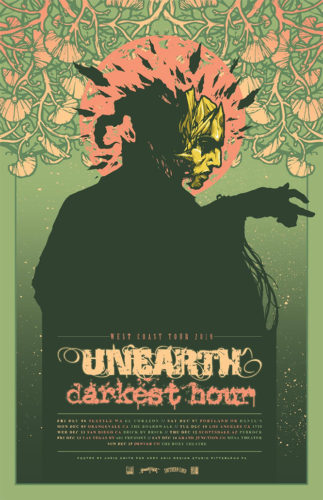 For DARKEST HOUR coverage requests in North America contact dave@earsplitcompound.com and in Europe contact lauren@rarelyunable.com.
http://officialdarkesthour.com
https://www.facebook.com/DarkestHourDudes
https://twitter.com/darkesthourrock
https://www.instagram.com/darkest_hour_official http://www.southernlordeurope.com