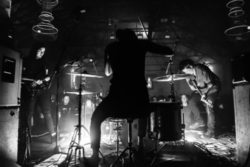 REVISIT THE OFFICIAL VIDEO FOR "SIBLING" BY MATHIEU BALL & ROBIN WATTIE
BIG|BRAVE are returning to Europe in April and May for a wide reaching tour in support of their fourth opus A Gaze Among Them released by Southern Lord last year. Opening the tour with their second appearance at Roadburn Festival, followed by dates in the UK and beyond – dates, details and tour poster below. Joining them for three dates will be violinist and sound artist Jessica Moss, who has toured with, and appeared on BIG|BRAVE's previous album.
Since their inception in 2012, BIG|BRAVE have explored terrains of experimental rock with a clear focus on the key principles; space, volume, and raw emotion. The essence of BIG | BRAVE's magic has always been the way they balance these dynamics, and particularly how much sheer power comes from the beautifully quiet moments.
BIG | BRAVE LIVE DATES:
19/04 Tilburg Netherlands – Roadburn *
20/04 Paris France – La Boule Noire *
21/04 London UK – Electrowerkz *
22/04 Brighton UK – The Hope & Ruin
23/04 Norfolk UK – Norwich Arts Centre
24/04 Glasgow UK – Nice N Sleazy
26/04 Newcastle UK – The Cluny
28/04 Nantes France – La Scène Michelet
30/04 Madrid Spain – Wurlitzer Ballroom
01/05 Lisboa Portugal – ZDB
02/05 Porto Portugal – Maus Hábitos
03/05 Oviedo Spain – La Lata de Zinc
06/05 Barcelona Spain – Sala VOL
07/05 Talence France – Antirouille
08/05 Lyon France – Le Farmer
09/05 Zürich Switzerland – Rote Fabrik
10/05 Piacenza Italy – ChezArt
12/05 Vienna Austria – Grillx
13/05 Budapest Hungary – Három Holló
14/05 Prague Czech Republic – Klubovna
15/05 Wroclaw Poland – Into The Abyss
16/05 Gdansk Poland – Dizzy Grizzly
17/05 Berlin Germany – ZUKUNFT am Ostkreuz
19/05 Moscow Russia – Bumazhnaya Fabrika
20/05 St. Petersburg Russia – Serdce
21/05 Tallinn Estonia – Sveta Baar
23/05 Zottegem Belgium – Dunk! Festival
24/05 Waregem Belgium – W-Fest
* with Jessica Moss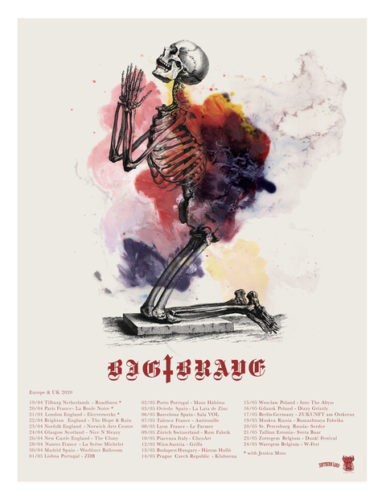 "The heaviness of their music resists falling into stoner/sludge mode, but there is huge weight attached to them that, when it hits, is a flooring experience…A Gaze Among Them has the power to crush and caress in equal measures." – 4* RECORD COLLECTOR
"Their fourth full length is as sparse and explorative as ever, but it's rendered this time in accessible technicolour…A Gaze Among Them remains steadfastly bold…This newfound confidence suits vocalist/guitarist Robin Wattie, her voice sounding by turns otherworldly, and toweringly defiant, BIG| BRAVE have turned sonic minimalism into a kaleidoscopic experience that becomes increasingly compulsive with each listen." – 8/10 METAL HAMMER
"a work of shattering weight and magnificence. The fight to be objective about Big|Brave is futile; this band will touch and disturb you like no other, in ways you never thought you could be. Forget classic of its genre: A Gaze Among Them is a classic of its time." – 9/10 GHOST CULT
"Big | Brave sound utterly unique, like they've passed through a secret aperture into territory as yet unexplored by others" – 4.5/5 MUSIC OMH
"A Gaze Among Them is a precious album of truly beautiful aural elation which should be enough to lift the heaviest of hearts." – 8/10, THE 405