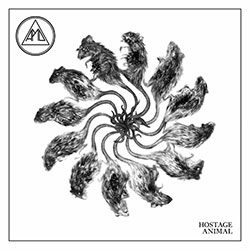 ALL PIGS MUST DIE shares the punishing new track "Blood Wet Teeth," the second single from their upcoming album Hostage Animal, due out through Southern Lord October 27th.
The band offers, "Hostage Animal is the most dynamic but efficient of our albums. The idea was to get to a wider spectrum without meandering along the way. We enjoy playing together and making music that is as heavy as possible. Getting that feeling like you're about to break apart when you are making violent music is something we chase after any time we are putting together new material."
Stream/share ALL PIGS MUST DIE's "Blood Wet Teeth" HERE.
ALL PIGS MUST DIE's "Blood Wet Teeth" is now streaming exclusively through Metal Hammer at THIS LOCATION.
Also hear the previously released "A Caustic Vision" via Revolver Magazine HERE.
Preorders for Hostage Animal are now available in the US HERE, Europe HERE, and via Bandcamp HERE.
ALL PIGS MUST DIE has confirmed several new performances coinciding with the release of the new LP, with shows in Brooklyn on October 19th, Boston on October 20th, and Providence on October 21st. Additional tour dates will be announced shortly.
ALL PIGS MUST DIE Tour Dates:
10/19/2017 Saint Vitus Bar – Brooklyn, NY
10/20/2017 Great Scott – Boston, MA
10/21/2017 AS220 – Providence, RI
Four years since the release of their last full-length, ALL PIGS MUST DIE has returned with Hostage Animal, a ten-song album that distills aggressive music to its purest tenets. The band, now a five-piece with the addition of Brian Izzi (Trap Them) on guitar, is comprised of some of the most well-seasoned musicians on the eastern seaboard – Kevin Baker (The Hope Conspiracy), Ben Koller (Converge), Matt Woods (Bloodhorse), and Adam Wentworth (Bloodhorse). Hostage Animal is their most dynamic collection of work thus far
ALL PIGS MUST DIE unleashed their first full-length in 2011 with God Is War, the thirty-minute rip a nod to primeval disdain and anger. Exploring facets of human conflict one track at a time, God Is War introduced the world to a whole new spectrum of rage. In 2013, APMD upped the ante with Nothing Violates This Nature; having honed their craft with more speed and filth, the band pushed their sound closer to the edge.
Now, in 2017, the band is gearing up for the release of Hostage Animal which, like its predecessors, was recorded at Kurt Ballou's GodCity Studio. But that is where the similarities end; Hostage Animal ushers in ten new songs that pulverize, gnash, and whirl with the band's most punishing delivery yet. Hostage Animal showcases that ALL PIGS MUST DIE is far more than the sum of their parts, and their fusion of crust punk, hardcore, and metal is more ferocious than ever before.
Review copies of Hostage Animal will be issued in the days ahead. For coverage of ALL PIGS MUST DIE in North America contact dave@earsplitcompound.com and internationally contact lauren@rarelyunable.com.
http://www.godiswar.com
http://www.facebook.com/apmdband
https://www.twitter.com/allpigsmustdie
http://www.southernlord.com
http://southernlord.bandcamp.com
https://www.facebook.com/SLadmin
http://twitter.com/twatterlord