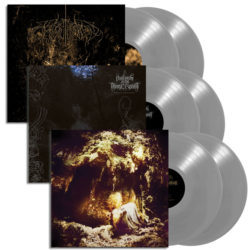 Coinciding with Southern Lord's 20th anniversary this year, the label announces the reissues of all three of the label's acclaimed albums from WOLVES IN THE THRONE ROOM; Two Hunters, Black Cascade, and Celestial Lineage. Each special reissue will be issued on limited edition silver vinyl.
About the reissues the band remarks, "We are thrilled that Two Hunters, Black Cascade, and Celestial Lineage are back in print. These records document a fertile and magical time in our lives and we are so pleased that a new generation of fans will be able to enjoy these records on vinyl."
WOLVES IN THE THRONE ROOM, who picked up the accolades for Best Underground Band at the Metal Hammer Golden Gods awards during their recent European touring, will continue to tour throughout the year. WITTR will be on tour with Behemoth and At The Gates October 19th through November 24th in the US and Canada. This same epic lineup invades Europe January 10th through February 11th, 2019.
Southern Lord and WOLVES IN THE THRONE ROOM's USA and European Webstores will have black vinyl available near mid-September. The band will also be offering autographed editions and limited bundles from their store. Check WITTR.com for details.

Place orders for all three WOLVES IN THE THRONE ROOM LP reissues at Southern Lord US HERE and Southern Lord Europe HERE.
Reflecting on the anniversary year, label owner Greg Anderson comments, "Over the years Southern Lord has the incredible honor of releasing albums from cult legendary bands Electric Wizard, Sleep, Magma, Unsane, Darkest Hour, Grief, Saint Vitus, BL'AST!, Winter, Wolfbrigade, Poison Idea, and Pelican, as well as iconic, monumental artists, Dylan Carlson (Earth), Wino, Dave Grohl (Probot), Zakk Wylde (Zakk Sabbath), and Josh Homme (Desert Sessions). We are extremely proud to have been a part of the developing rise of several bands who are now part of the essential fabric of the underground: WOLVES IN THE THRONE ROOM, Nails, Boris, and Power Trip."
Anderson continues, "It is our mission to create a sanctuary for bands/artists/musicians to have their creative works released exactly as their vision was intended." These three reissues will be no exception. Southern Lord and WOLVES IN THE THRONE ROOM's US and European webstores will have black vinyl available near mid-September.
WOLVES IN THE THRONE ROOM Tour Dates:
Ecclesia Diabolica America 2018 e.v. w/ Behemoth, At The Gates:
10/20/2018 Van Buren – Phoenix, AZ
10/22/2018 House Of Blues – Dallas, TX
10/23/2018 The Aztec Theatre – San Antonio, TX
10/24/2018 House Of Blues – Houston, TX
10/26/2018 Masquerade – Atlanta, GA
10/27/2018 Janus Landing – Tampa, FL
10/29/2018 The Underground – Charlotte, NC
10/30/2018 The Fillmore – Philadelphia, PA
11/01/2018 House Of Blues – Boston, MA
11/02/2018 The Fillmore – Silver Spring, MD
11/03/2018 Playstation Theater – New York, NY
11/04/2018 M-Telus – Montreal, QC
11/06/2018 The Danforth – Toronto, ON
11/07/2018 St. Andrews Hall – Detroit, MI
11/09/2018 House Of Blues – Chicago, IL
11/10/2018 Cabooz – Minneapolis, MN
11/11/2018 The Truman – Kansas City, MO
11/13/2018 The Ogden Theatre – Denver, CO
11/14/2018 The Depot – Salt Lake City, UT
11/16/2018 MacEwan Ballroom – Calgary, AB
11/17/2018 Union Hall – Edmonton, AB
11/20/2018 Showbox Market – Seattle, WA
11/21/2018 Crystal Ballroom – Portland, OR
11/23/2018 The Regency Ballroom – San Francisco, CA
11/24/2018 The Wiltern Theatre – Los Angeles, CA
Ecclesia Diabolica Evropa 2019 e.v. w/ Behemoth, At The Gates
1/10/2019 Batschkapp – Frankfurt,DE
1/11/2019 Tonhalle – Munich, DE
1/12/2019 Forum Karlin – Prague, CZ
1/13/2019 Arena – Vienna, AT
1/15/2019 Komplex 457 – Zurich, CH
1/16/2019 Alcatraz – Milano, IT
1/17/2019 Le Transbordeur – Lyon, FR
1/18/2019 Razzmatazz – Barcelona, ES
1/19/2019 La Riviera – Madrid, ES
1/21/2019 Le Bikini – Toulouse, FR
1/22/2019 Bataclan – Paris, FR
1/23/2019 Turbinenhalle – Oberhausen, DE
1/24/2019 Huxleys – Berlin, DE
1/25/2019 Vega – Copenhagen, DK
1/26/2019 Annexet – Stockholm, SE
1/27/2019 Rockefeller – Oslo, NO
1/29/2019 The Circus – Helsinki, FI
1/30/2019 Pakkahuone – Tampere, FI
2/01/2019 Grosse Freiheit 36 – Hamburg, DE
2/02/2019 Tivoli – Utrecht, NL
2/03/2019 AB – Brussels, BE
2/04/2019 Rockhal – Esch-sur-Alzette, LU
2/06/2019 Motion – Bristol, UK
2/07/2019 O2 Institute – Birmingham, UK
2/08/2019 O2 Forum Kentish Town – London, UK
2/09/2019 O2 Ritz – Manchester, UK
2/10/2019 Vicar Street – Dublin, IE
2/11/2019 QM Union – Glasgow, UK
For Southern Lord press inquiries in The Americas contact dave@earsplitcompound.com and otherwise contact lauren@rarelyunable.com.