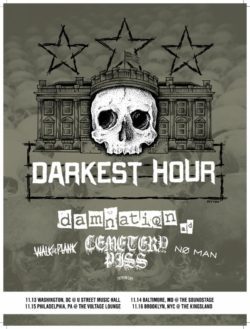 Washington, DC-based DARKEST HOUR has booked a run of East Coast tour dates for this November. This succinct but vital trek sees the long-running metal quintet headlining with support from some of their hand-picked favorite hometown scene acts.
Produced by Kurt Ballou (Converge), DARKEST HOUR's eleventh LP, Godless Prophets & The Migrant Flora, continues to solidify the band's legacy as a major metal powerhouse. Raw, complex, melodic, yet cutting with razor blade precision, Godless Prophets & The Migrant Flora is a fierce album which shows the long-running band as lethal and ravenous as ever. Following its 217 release through Southern Lord, the band has continued to tour regularly throughout North America and Europe.
DARKEST HOUR will kick off this latest mini-tour on their home turf in DC on November 13th, followed by shows in Baltimore, Philadelphia, and Brooklyn through November 16th. On all four shows, the band will be joined by hardcore icons Damnation A.D., blackened punk act Cemetery Piss, hardcore punk outfit Walk The Plank, and new band No Man.

DARKEST HOUR w/ Damnation A.D., Cemetery Piss, Walk The Plank, No Man:
11/13/2018 U Street Music Hall – Washington, DC [tickets]
11/14/2018 Baltimore Soundstage – Baltimore, MD [tickets]
11/15/2018 Voltage Lounge – Philadelphia, PA [tickets]
11/16/2018 The Kingsland – Brooklyn, NY [tickets]
Stream DARKEST HOUR's Godless Prophets & The Migrant Flora in its entirety HERE and see the official video for the track "Enter Oblivion" HERE.
Godless Prophets & The Migrant Flora is available on CD, black vinyl LP, picture disc LP, and all digital platforms via Southern Lord; find ordering options at the label's webstore HERE, via Bandcamp HERE, and through all digital providers.
The banddeclares on their choices for the tour lineup:
"DARKEST HOUR is excited to announce this short run of dates with some of our most favorite bands and people from the Washington, DC-area scene!
No Man (features ex-Majority Rule members) are old friends with a kickass new sound! Walk The Plank has been making a name for themselves with some serious touring, and they bring their own brand of DC hardcore punk to the bill! Cemetery Piss is one of our new favorite bands from the Baltimore area. We can't get enough of their black metal/punk-infused sound! Lastly, Damnation A.D. is one our band's earliest loves! These guys were the first major influence to us as a band. They took us out on our first tour ever, they showed us how to tour, how to be a band, and most of all they made music that we still love and hold deep in our hearts today. We can't wait to share the stage with them, and we are truly honored that these bands have all chosen to join us on this short but amazingly fun run!
We have some surprises in store on our end so make sure to get pre-sale tickets at the links provided. These venues are small, and these shows will be part of DARKEST HOUR history!"
For tour coverage of DARKEST HOUR, in North America contact dave@earsplitcompound.com and in Europe contact lauren@rarelyunable.com.
http://officialdarkesthour.com
https://www.facebook.com/DarkestHourDudes
https://twitter.com/darkesthourrock
https://www.instagram.com/darkest_hour_official
http://www.southernlordeurope.com
http://southernlord.bandcamp.com
http://twitter.com/twatterlord
https://www.facebook.com/SLadmin