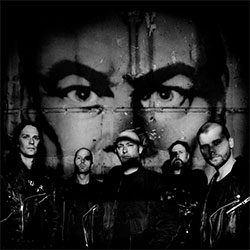 Formed in 1995, initially as Wolfpack, after five years the band ventured into the new millennium as WOLFBRIGADE. Having released an impressive load of LPs and smaller releases through both entities, and has toured widely across Europe, the US, and more over the years, making the band one of the most premier acts of the genre. Their damning music surges with outcries against human socio-political injustices, yearning for transformation and freedom.
WOLFBRIGADE's Run With The Hunted surges with ten brutalizing new tracks which elevate both the harsh intensity and the melodic attributes of the band's patented, penetrating, d-beat-ridden hardcore crust punk to new extremes of infectious viciousness. A concentrated sense of urgency lines the entire record, while a fragmented sense of dystopia fuels the scathing vocal wrath. Run With The Hunted was recorded in both Studio Fredman in Gothenburg (At the Gates, In Flames, Martyrdöd), by Fredrik Nordström and Henrik Udd, and in Sunlight Studio (Dismember, Entombed, Grave) in Stockholm, by Tomas Skogsberg.
Declares WOLFBRIGADE of the new album, "We looked to explore our rawness, writing straight-up, in-your-face, primitive songs. On this record, we decided to push the melodic strains even further, but without losing either intensity or brutality. Lyrically we have been inspired by both classic and obscure dystopian literature, finding suitably horrible metaphors for the decline of western society. The search for freedom continues, but this time the path is pointed inwards, into ourselves."
Southern Lord will release Run With The Hunted on LP, CD, and digital formats on April 28th, issuing the artwork, and track listing. Stand by for audio previews and more on the album as it approaches release.
WOLFBRIGADE will tour in support of the new album, with a solid list of festival performances across Europe confirmed for the Spring and Summer months, including Huset Harcdore Fest, Superbowl Of Hardcore, SMSF Fest, Obscene Extreme, DIY Fest, Wacken Open Air, and more, with additional tour dates to be announced in the weeks ahead.
Run With The Hunted Track Listing:
1. Nomad Pack
2. Warsaw Speedwolf
3. Lucid Monomania
4. No Reward
5. Kallocain
6. Return To None
7. War On Rules
8. Feral Blood
9. Under The Bell
10. Dead Cold

WOLFBRIGADE Tour Dates:
3/11/2017 Huset Hardcore Fest – Copenhagen, DK
4/22/2017 Superbowl Of Hardcore – Rennes, FR
6/10/2017 SMSF Fest – Beja, PO
7/02/2017 Kraken – Stockholm, SE
7/06-08/2017 Obscene Extreme – Trutnov Battlefield, CZ
7/06-08/2017 DIY Fest – Gdynia, PL
8/04-06/2017 Wacken Open Air – Wacken, DE
8/04-06/2017 Het Bos – Antwerp, BE