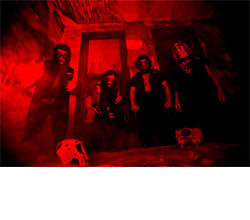 Still in their embryonic stages, CRYPT ROT was conceived in Ashtabula, Ohio in 2016, however members of the group have been cutting their teeth in various other bands for some time. CRYPT ROT was formed by lead vocalist/guitarist Ryan Sposito (former frontman of Homewrecker), drummer/vocalist Matt Izzi (Homewrecker, Scorched), guitarist Joe Dedomenic, bassist Steve Cray (formerly of Homewrecker) and since replaced by Aaron Schwarz, with additional vocals from Allie Dioneff.
CRYPT ROT summons an ominous atmosphere on their debut, as they segue between pummeling blackened death metal fury, packed with caustic vocals, drop-tuned aggression, relentless riffs, spine-tingling harmonies, and creepy sounds from the darkest catacombs. Lyrically they probe matters of life, death, politics, (anti) religion, suffering, and mental health, and take influence from the masters including; Carnage, Dismember, Death, Cannibal Corpse, Repugnant, Deicide, and Dissection.
For the recording sessions of Embryonic Devils, the band enlisted Bill Korecky at the Mars Compound (Integrity, Ringworm, Homewrecker); the collaboration resulted in five brand new death anthems, refined with a high-gain sound that will grab listeners with its ferocity.
Sample the tumultuous filth of "Chapters Of Torment" RIGHT HERE.
Embryonic Devils shall be released via Southern Lord in LP and digital formats on 28th April, preorder information shall be released soon. The band recently entered the studio again resulting in three new songs, which will later appear on a split release with Scorched.
This is just the beginning, let the Rot Begin. Welcome to the Crypt.
Embryonic Devils Track List:
1. Segue 1
2. Chapters Of Torment
3. Segue 2
4. Scaphist Waste
5. Segue 3
6. Coffin Birth…Post Mortal Fetal Extrusion
7. Segue 4
8. Pit Of Morbidity
9. Segue 5
10. Internal Organ Feast