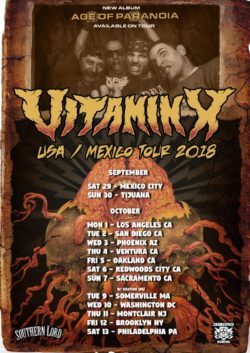 Long-running Dutch hardcore/punk icons VITAMIN X will make their return to North America this month with their first tour dates on the continent in more than five years. The run of tour dates leads with two shows in Mexico, followed by quick runs on both the West and East Coasts of the United States. VITAMIN X is touring in support of their latest LP, and crushing Southern Lord debut, Age Of Paranoia, which saw release in May.
Surging with rapid-fire punk angst, replete with ripping rock leads and raised-fist, group-chanting anthems, VITAMIN X deploys sixteen volatile tracks in a succinct, white-knuckled, twenty-eight minutes on Age Of Paranoia. The album was recorded by Igor Wouters at ARC Studios in Amsterdam and includes special guest guitar solos by J Mascis (Dinosaur Jr., Witch) and Bubba Dupree (Void, Soundgarden, Dave Grohl's Probot, Brant Bjork). The cover artwork was created by Marald (Baroness, Kylesa, High On Fire).
VITAMIN X now storms back to North America this month, with a run of tour dates on which they will be playing songs from Age Of Paranoia for the first time as well as their fan favorite and seminal tracks. This new tour will see the band touring the West Coast for the first time since 2012 and the East Coast for the first time since 2013. The tour begins with Off Limits Fest in Mexico City on Saturday, September 29th — playing with the likes of No Fun At All, Ratos de Porão, Terrorizer, Youth Brigade, Slapshot, and labelmates Darkest Hour and Sect, among many others – followed by a shot in Tijuana the following night. VITAMIN X then hits the West Coast US with shows in Arizona and six cities across California, before hitting the East Coast US for five shows with support from Fixation, the tour ending in Philadelphia on October 13th.
Guitarist Marc Emmerik states, "We're very excited to announce this tour, which will be our first time playing both the East and West Coasts on the same tour in more than ten years! This tour is gonna be crazy and we've got an amazing setlist playing all our classics and several songs from the new album Age Of Paranoia'. Can't wait to make some new friends and see our old friends! See you in the pit!"
Stream VITAMIN X's Age Of Paranoia now at THIS LOCATION.
Age Of Paranoia is out now on LP, CD, and digital formats; find physical bundles at Southern Lord's webshop HERE and the digital at Bandcamp HERE and through all digital providers.
VITAMIN X USA/Mexico Tour 2018:
9/29/2018 Off Limits Fest – Mexico City, MX [info]
9/30/2018 El Tigre Bar – Tijuana, MX w/ Heat, Violencia, 1059 [info]
10/01/2018 The Resident – Los Angeles, CA w/ ACxDC, Trappist, Skullcrack [info]
10/02/2018 Space Bar – San Diego, CA w/ Drug Control, Skullcrack [info]
10/03/2018 LBX – Phoenix, AZ
10/04/2018 The Garage – Ventura, CA
10/05/2018 1234 Go! Records – Oakland, CA w/ Isotope, Khiis [info]
10/06/2018 The Mardi Gras Lounge – Redwood City, CA
10/07/2018 Blue Lamp – Sacramento, CA w/ Slow Code, Sick Burn, Years Of Aggression [info]
10/09/2018 Once – Sommerville, MA w/ Fixation
10/10/2018 Atlas Brew Works – Washington, DC w/ Fixation
10/11/2018 The Meatlocker – Montclair, NJ w/ Fixation
10/12/2018 Kingsland – Brooklyn, NY w/ Fixation [info]
10/13/2018 Voltage Lounge – Philadelphia, PA w/ Fixation, Syringe, Drug Bust [info]
"…they tapped a rather unlikely hero, J Mascis of Dinosaur Jr., to help make one of the tracks 'Flip the Switch.' It's a very Annihilation Time, mid-period Black Flag-y ripper that's perfect for the pit, or washing down a cold one with another cold one (sorry, straight-edge homies)." – Revolver Magazine
"There is a distinguished, undeniable sound-a cavernous, progressing rumble-that belongs to a skateboard. Your ears recognize it and excite you long before you see the board. That sound triggers myriad images, combining the thrill of physical exertion and challenge with, innately, an emblem of rebellion. In punk, Vitamin X create a sound just as unique and riveting. The Amsterdam-based band's guitar work extracts references from surf-drenched Cali-punk to East Coast straight edge stalwarts to '80s skate rock." – New Noise Magazine
"Everything about this record is cool, from the vicious songs to the killer artwork. I had high expectations for this record, and I was not disappointed. This is a hell of a good way to spend 25 minutes or so. I know the year's not halfway over yet, but as of now, Age of Paranoia is my favorite release of 2018. Whether you're a fan of 80's hardcore punk or more modern crossover thrash, Vitamin X deserves a prominent place in your record collection. 4.5/5" – Punknews.org
"Fast, furious, overflowing with energy and slam happy anthems, Age of Paranoia is a heavyweight, Hardcore monster that should, and deserves to, find a home in every HC kids, both young and old, record collection and on every single punk rock stereo in scene-land. Welcome to the Age of Paranoia. It's time to take your vitamins…" – Mass Movement
For review copies of Age Of Paranoia and live coverage or interviews with VITAMIN X in The Americas contact dave@earsplitcompound.com
and elsewhere contact lauren@rarelyunable.com.
https://www.facebook.com/vitaminxhc< https://vitaminx.bandcamp.com
http://www.southernlord.com
http://southernlord.bandcamp.com
https://www.facebook.com/SLadmin
http://twitter.com/twatterlord