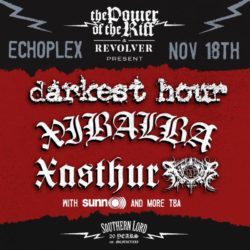 THE POWER OF THE RIFF makes is return in November, hosting a Los Angeles-based event with two days of performances featuring a wide range of heavy acts. The first incarnation of THE POWER OF THE RIFF since late 2016, this year's gathering will take place the weekend of November 17th and 18th. This week the curators confirm more new acts including DARKEST HOUR, XIBALBA, and XASTHUR.
THE POWER OF THE RIFF's 2018 festivities will begin on Saturday, November 17th, with a kickoff party at The Echo. This show will see new Southern Lord act THE PRIMALS, a power trio featuring members of Darkest Hour, The Explosion, and more, opening for a rare set by legendary '60s garage rock outfit, THE SONICS.
The main event for THE POWER OF THE RIFF will take place the following day, Sunday, November 18th, at LA's The Echoplex. This show will be headlined by SUNN O))), who in 2018 is celebrating the act's twentieth anniversary along with the Southern Lord label which was also created by the band in 1998. This show mark's SUNN O)))'s only California show of 2018 and final show of the year. Additional acts have also just been announced, including long-running metal quintet DARKEST HOUR, brutal metallic hardcore outfit XIBALBA, and legendary underground entity XASTHUR.
Watch for additional acts for the main event to be announced in the days ahead as THE POWER OF THE RIFF 2018 continues to take form.
Check out the new THE POWER OF THE RIFF website RIGHT HERE and find tickets for the event at THIS LOCATION.
A limited number of special VIP tickets are available, each of which includes early entry, a drink token, Southern Lord swag bag, a SUNN O))) surprise, and more.
THE POWER OF THE RIFF 2018:
11/17/2018 The Echo – Los Angeles, CA kickoff party w/ The Sonics, The Primals [info]
11/18/2018 The Echoplex – Los Angeles, CA w/ SUNN O))), Darkest Hour, Xibalba, Xasthur, more TBA [info]
With an intent of exposing fans of all ages to brand new underground acts alongside some of the biggest names in the underground metal and hardcore scenes, for nearly a decade, THE POWER OF THE RIFF has booked multiple major festivals on the East and West Coasts, several mini-tours, and more. Among the dozens of acts that have taken part in these widespread events, AGNOSTIC FRONT, ALL PIGS MUST DIE, BAPTISTS, BLACK BREATH, BLACK COBRA, COLISEUM, CORROSION OF CONFORMITY, EAGLE TWIN, EYEHATEGOD, FROM ASHES RISE, GATECREEPER, GOATSNAKE, INCANTATION, NAILS, NECROT, NEGATIVE APPROACH, NEUROSIS, PELICAN, PENTAGRAM, REPULSION, SUNN O))), TRAP THEM, WINTER, WOLVES IN THE THRONE ROOM, XIBALBA, and many others have performed.
For press inquiries on Southern Lord Recordings and its artists and actions contact dave@earsplitcompound.com.
http://www.thepoweroftheriff.com
http://www.southernlord.com
http://southernlord.bandcamp.com
http://twitter.com/twatterlord
https://www.facebook.com/SLadmin