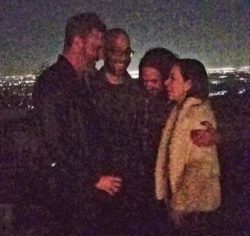 THIS WHITE LIGHT, the new band featuring guitarist Greg Anderson (Sunn O))), Goatsnake), drummer Jade Devitt (Lucky Me, Gale Forces), bassist Bryan Herweg (Pelican), and vocalist Jen Wood (solo artist and formerly of Tattle Tale and collaborator with The Postal Service) shares a new track, "The House," as they announce their first live dates.
Exploring the contrast of darkness and light, THIS WHITE LIGHT's music is delicate when called for, powerful when necessary.
Listen to "The House" and revisit the early demo track "Winter Flowers" RIGHT HERE.
THIS WHITE LIGHT will play their first-ever live shows this fall, confirming their performance alongside legendary garage rock act The Sonics as well as The Primals at the kickoff party for The Power Of The Riff 2018 in Los Angeles on November 17th. THIS WHITE LIGHT will also play two more shows with The Primals in San Francisco December 7th and San Diego December 9th.
THIS WHITE LIGHT Live:
11/17/2018 Echoplex – Los Angeles, CA @ The Power Of The Riff w/ The Sonics, The Primals [info]
12/07/2018 Elbo Room – San Francisco, CA w/ The Primals
12/09/2018 Bancroft – San Diego, CA w/ Primals, Modern Love
In March 2017, Greg Anderson and Jade Devitt began to make music with one another again, having previously played together in the nineties with Engine Kid. Starting with the formula of extreme dynamics that they had perfected in the years previous as Engine Kid, the pair have added their more-than-twenty-years of musical experience and taken the music in a new and different direction. Chance encounters and serendipitous moments fortified the final line up of THIS WHITE LIGHT with the addition of Bryan Herweg and Jen Wood. The four-piece recorded with Josh Homme at his Pink Duck Studios in April for their next release, with more info to follow soon.
Stay tuned for further news from THIS WHITE LIGHT in 2019. For further info, in The Americas contact dave@earsplitcompound.com and in Europe contact lauren@rarelyunable.com.
https://www.facebook.com/This-White-Light-1876836728993706
https://thiswhitelightsl.bandcamp.com