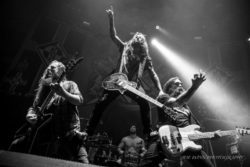 Washington, DC-based DARKEST HOUR will embark on their special East Coast mini-tour next week, which will see the long-running metal quintet headlining with support from some of their hand-picked favorite hometown scene acts.
DARKEST HOUR will kick off the mini-tour on their home turf in DC on November 13th, followed by shows in Baltimore, Philadelphia, and Brooklyn through November 16th. On all four shows, the band will be joined by iconic hardcore outfit Damnation A.D., blackened punk act Cemetery Piss, hardcore punk outfit Walk The Plank, and new outfit No Man. Just two days after the mini-tour, DARKEST HOUR traverse the country to take part in The Power Of The Riff on November 18th, performing with Sunn O))), Scream, Xibalba, Xasthur, Papa M, and Entry.
With this tour rapidly approaching, DARKEST HOUR also announces the first European tour dates of 2019. The newly-announced trek, dubbed Death To False Metalcore, will see the band co-headlining with Unearth, with support from Misery Signals, Malevolence, and Left Behind, and runs from March 21st through April 1st.
Additionally, DARKEST HOUR has teamed up with Mount Desert Island Ice Cream shop in Washington DC, owned by Dischord Record employees, to create a new signature flavor, Savor The Chill. The band worked diligently to help perfect this amazing blend of dark chocolate and whiskey to perfect the flavor, which is now available through November 22nd. Read more about the shop HERE
Stream DARKEST HOUR's Godless Prophets & The Migrant Flora in its entirety HERE and see the official video for the track "Enter Oblivion" HERE.
DARKEST HOUR Tour Dates:
11/13/2018 U Street Music Hall – Washington, DC * [tickets]
11/14/2018 Baltimore Soundstage – Baltimore, MD * [tickets]
11/15/2018 Voltage Lounge – Philadelphia, PA * [tickets]
11/16/2018 The Kingsland – Brooklyn, NY * [tickets]
11/18/2018 The Echoplex – Los Angeles, CA % [info]
3/21/2019 Essigfabrik – Köln, DE #
3/22/2019 Het Entrepot – Brugge, BE #
3/23/2019 ULU – London, UK (no Malevolence) #
3/24/2019 Tivoli Pandora – Utrecht, NL #
3/25/2019 Schlachthof – Wiesbaden, DE #
3/26/2019 Markthalle – Hamburg, DE #
3/27/2019 SO36 – Berlin, DE #
3/28/2019 Backstage – Munich, DE #
3/29/2019 Conne Island – Leipzig, DE
3/30/2019 Futurum – Prague, CZ #
3/31/2019 A38 – Budapest, HU #
4/01/2019 Arena – Vienna, AU #
* w/ Damnation A.D., Cemetery Piss, Walk The Plank, No Man
% at The Power Of The Riff w/ Sunn O))), Scream, Xibalba, Xasthur, Papa M, Entry
# Death To False Metalcore w/ Unearth, Misery Signals, Malevolence, Left Behind
Produced by Kurt Ballou (Converge), DARKEST HOUR's eleventh LP, Godless Prophets & The Migrant Flora, continues to solidify the band's legacy as a major metal powerhouse. Raw, complex, melodic, yet cutting with razor blade precision, Godless Prophets & The Migrant Flora is a fierce album which shows the long-running band as lethal and ravenous as ever. Following its 217 release through Southern Lord, the band has continued to tour regularly throughout North America and Europe.
Godless Prophets & The Migrant Flora is available on CD, black vinyl LP, picture disc LP, and all digital platforms via Southern Lord; find ordering options at the label's webstore Darkest Hour, via Bandcamp HERE, and through all digital providers.
Direct DARKEST HOUR coverage requests in North America contact dave@earsplitcompound.comand in Europe contact lauren@rarelyunable.com.
http://officialdarkesthour.com
https://www.facebook.com/DarkestHourDudes
https://twitter.com/darkesthourrock
https://www.instagram.com/darkest_hour_official
http://www.southernlord.com
http://southernlord.bandcamp.com
http://twitter.com/twatterlord
https://www.facebook.com/SLadmin