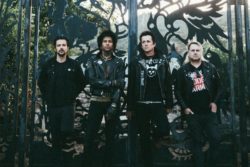 Less than three years since forming, Los Angeles-based dark punk band THE WRAITH has wrapped its debut full-length, Gloom Ballet, with Puscifer guitarist/producer Mat Mitchell. The foursome has signed to Southern Lord Recordings, who will release the album worldwide later this year.
"Southern Lord owner Greg Anderson has been amazing to work with, and we really appreciate his willingness to incorporate a different sound into his roster," offers guitarist Kaz Alvis.
Infused with '80s UK post-punk (Death Cult, Killing Joke, Chameleons) and SoCal deathrock (T.S.O.L., Samhain), THE WRAITH was founded by imposing frontman Davey Bales, formerly of Virginia peace-punks Lost Tribe, and Alvis shortly after they separately washed up in Los Angeles. Their irresistibly distinctive sound – skeletal basslines and tribal beats propelling Alvis' textured swathes beneath Bales' poetic, anguished bark – immediately gained a following, with homemade demo Comatic Romance racking-up thousands of YouTube views.
Convulsive, chaotic West Coast shows honed the songs that became THE WRAITH's lauded 2017 EP, Shadow Flag. A couple of videos and line-up changes later – the band is now completed by Belgian drummer Jef Pauly and Brit bassist Paul Rogers – their evocative songwriting and pure-punk authenticity earned the ear of Mat Mitchell, who has worked with Love And Rockets, The Flaming Lips, Meat Puppets, King Crimson, and more.
"THE WRAITH is a flashback to many of the bands that inspired me to start making music," said Mitchell. "Given the opportunity to work on an album with them, how could I turn it down?"
THE WRAITH has shared stages with the likes of Spear Of Destiny, The Dickies, Chameleons Vox, The Murder Junkies, and Generacion Suicida, among others. The band is confirmed to play at the newly announced installation of The Power Of The Riff in Los Angeles on August 31st with Zakk Sabbath, Fu Manchu, Entry, and host Don Jamieson. The band will also perform at LA Dark Fest on October 12th, with additional tour dates to follow in the coming months.
THE WRAITH Live:
8/31/2019 Fonda Theatre – Los Angeles, CA @ The Power Of The Riff [info]
10/12/2019 The Viper Room – Los Angeles, CA @ LA Dark Fest [info]
Watch for additional details on Gloom Ballet to be issued in the days ahead.
"This entire EP touches so many different corners of post-punk and related genres … Shadow Flag is a must-have." – CVLT Nation
"Shadow Flag … viciously comes alive, onstage and off-." – LA Weekly
"The Wraith pull everything from U2 to Fire Dances-era Killing Joke into an indelibly catchy four-song burst … Shadow Flag is a great spin." – Bandcamp Daily
THE WRAITH:
Kaz Alvis – guitar/vocals
Davey Bales – vocals
Jef Pauly – drums
Paul Rogers – bass/vocals
For coverage of Southern Lord artists in North America contact dave@earsplitcompound.com and internationally contact lauren@rarelyunable.com.
https://thewraithpunk.bandcamp.com
https://www.instagram.com/TheWraithPunk