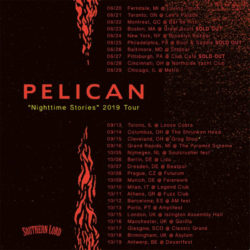 In the wake of their acclaimed Nighttime Stories LP, released this month through Southern Lord, PELICAN this week embarks on their first tour in support of the album. Nighttime Stories debuted on the Billboard charts at #23 Independent Albums, #6 on Heatseekers #6, #12 on Tastemakers, #28 on Rock Album Sales, #6 on Hard Rock Album Sales, and more.
With support by Cloakroom, PELICAN's run of Eastern North American performances kicks off tomorrow in Ferndale, followed by shows in Toronto, Montreal, Boston, Brooklyn, Philadelphia, Baltimore, Pittsburgh, and Cincinnati before ending in Chicago on June 29th. Several of the shows have already sold out.
Following this tour, PELICAN has announced a batch of US dates in September which includes shows in Champagne, Cleveland, Columbus, and Grand Rapids. Early this fall, the band headed to Europe to tour on the record through much of October. Find tickets for upcoming tour dates HERE and watch for additional tour dates and announcements from PELICAN to be posted shortly.
Stream PELICAN's Nighttime Stories at THIS LOCATION.
Nighttime Stories is out now through Southern Lord on CD, LP, and all digital platforms. Find merch and ordering options at the label webshop HERE and Bandcamp HERE.
PELICAN Nighttime Stories 2019 Tour:
6/20/2019 Loving Touch – Ferndale, MI *
6/21/2019 Lee's Palace – Toronto, ON *
6/22/2019 Bar de Ritz – Montreal, QC *
6/23/2019 Great Scott – Boston, MA * SOLD OUT
6/24/2019 Brooklyn Bazaar – Brooklyn, NY *
6/25/2019 Boot & Saddle – Philadelphia, PA * SOLD OUT
6/26/2019 Ottobar – Baltimore, MD *
6/27/2019 Club Café – Pittsburgh, PA * SOLD OUT
6/28/2019 Northside Yacht Club – Cincinnati, OH *
6/29/2019 Metro – Chicago, IL *
9/13/2019 Loose Cobra – Tolono, IL
9/14/2019 The Shrunken Head – Columbus, OH
9/15/2019 Grog Shop – Cleveland, OH
9/16/2019 The Pyramid Scheme – Grand Rapids, MI
10/05/2019 Soulcrusher Fest – Nijmegen, NL
10/06/2019 Lido – Berlin, DE
10/07/2019 Beatpol – Dresden, DE
10/08/2019 Futurum – Prague, CZ
10/09/2019 Feierwerk – Munich, DE
10/10/2019 Legend Club – Milan, IT
10/11/2019 Fuzz Club – Athens, GR
10/12/2019 AM Fest – Barcelona, ES
10/13/2019 Amplifest – Porto, PT
10/15/2019 Islington Assembly Hall – London, UK
10/16/2019 Gorilla – Manchester, UK
10/17/2019 Classic Grand – Glasgow, UK
10/18/2019 Asylum – Birmingham, UK
10/19/2019 Desertfest – Antwerp, BE
* w/ Cloakroom
Nighttime Stories marks PELICAN's first full-length in six years, and the band's first release written front to back with guitarist Dallas Thomas, who took over guitar duties upon founding member Laurent Schroeder-Lebec's departure in 2012. In the process of writing the album, the quartet endured a slew of realizations, tragedies, and glimmers of optimism that guided the creative process to the most potent work of their nineteen-year career.
Nighttime Stories was an album title initially proposed for Tusk, the hallucinatory art-grind band that included PELICAN members Trevor Shelley de Brauw, Larry Herweg, and Schroeder-Lebec, in addition to vocalist Jody Minnoch. The writing of Nighttime Stories was instigated shortly after Minnoch's unexpected death in 2014, and some of the dissonant viscera and dark psychedelic structures that were characteristic of Tusk's sound began to unconsciously inform the album's direction. In homage to their departed colleague, PELICAN applied the previously discarded title and pulled many of the song titles from notes Minnoch had sent to inspire the direction of the unrealized album. As the writing of Nighttime Stories progressed Thomas also experienced a heavy loss with the passing of his father, to whom the album pays tribute on opening track "W.S.T." (on which he performed his guitar parts on his father's Yamaha acoustic).
"…PELICAN has produced its most vulnerable yet overwhelming work to date… Nighttime Stories may have experienced a profoundly unhappy genesis, but it's a monument to transcendence." – NPR
"Nighttime Stories is powerful and pummeling, but there's an inherent joy that comes through, as PELICAN sounds stronger and more self-assured than ever before." – The Fader
"…Nighttime Stories sounds absolutely crushing – Stereogum
"The benchmark of their current sound is the warring, restless interplay of guitarists Trevor Shelley de Brauw and Dallas Thomas, whose soaring fretwork conveys the emotional candor that most metal acts seek from their vocalists." – Pitchfork
"…PELICAN prove as articulate as ever." – Decibel Magazine
"An eight-pack of tightly arranged compositions that underlines the band's skill at harnessing volume and mayhem in service of melody." – Chicago Tribune
For review copies of Nighttime Stories and interviews/coverage of PELICAN in The Americas contact dave@earsplitcompound.com and internationally contact lauren@rarelyunable.com.