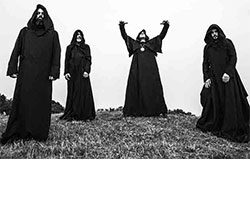 The first set of SUNN O))) tour dates for 2017 sees the collective bringing their dense and arrhythmic blend of metal, drone, and minimalist music back to the Northeast USA and Southeastern realms of Canada for a week of performances. SUNN O))) will converge in Washington DC on March 12th, following with shows in Pittsburgh, Toronto, Montreal, Boston, New York City, and Philadelphia confirmed through March 18th. Support on all shows will be provided by Southern Lord labelmates, Montreal-based Big|Brave, whom have also joined SUNN O))) on their recent tours of the Southwest, Southeast and Midwest states and Europe.
This follows the recent announcement of SUNN O)))'s appearance at London's massive performing arts venue, Barbican Centre, as part of this year's Convergence Festival on March 21st. Support for the performance will come from Icelandic singer and cellist, Hildur Guðnadóttir, who has played and recorded with bands such as Pan Sonic, Throbbing Gristle, and Múm. Guðnadóttir also wrote the arrangements for the Wildbirds & Peacedrums session as part of the Barbican's Nils Frahm curated Possibly Colliding marathon weekend in July.
Tickets for the East Coast shows go on sale this Friday, December 23rd at 10am local time. Tickets for the Barbican performance are available HERE.
As Winter Solstice approaches, SUNN O))) extends thanks to their fans for their support throughout 2016, and as a token of their appreciation, offer a free track as well as a digital sale through the rest of the year. Fans can now find the exclusive track «青木ヶ原 // 樹海» (aka "Aokigahara // Jukai" from the flexi 7″ which was released together with some vinyl copies of Kannon) for free download through the end of December at THIS LOCATION. To take advantage of the 35% Bandcamp discount, go to sunn.bandcamp.com or sunn-live.bandcamp.com and enter discount code SOLSTICE2016.
SUNN O))) Tour Dates:
3/12/2017 930 Club – Washington, DC w/ Big | Brave [tickets]
3/13/2017 The Rex – Pittsburgh, PA w/ Big | Brave [tickets]
3/14/2017 Queen Elizabeth Theatre – Toronto, ON w/ Big | Brave [tickets]
3/15/2017 La Sat – Montreal, QC w/ Big | Brave [tickets]
3/16/2017 The Coolidge – Boston, MA w/ Big | Brave [tickets]
3/17/2017 Knockdown Center – Brooklyn, NY w/ Big | Brave [tickets]
3/18/2017 Union Transfer – Philadelphia, PA w/ Big | Brave [tickets]
3/21/2017 Barbican – London, UK @ Convergence Festival w/ Hildur Guðnadóttir [tickets]