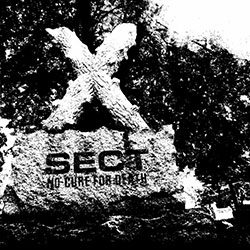 North American straightedge/vegan hardcore/crust outfit SECT — featuring scene lifers hailing from Cursed, Left For Dead, Catharsis, Undying, Earth Crisis, The Path Of Resistance, Day Of Suffering, Racetraitor, and more — has issued the devastating "Open Grave," the lead track their impending second album, No Cure For Death. The new song is now playing at Exclaim! Magazine as the LP nears November release through Southern Lord.
No Cure For Death was recorded with Kurt Ballou at GodCity Studios and mastered by Alan Douches at West West Side Music. SECT vocalist Chris Colohan explains that the new "Open Grave" single is, "a song about how we got to this point in history, how detached from consequence and oblivious to the removal of our most basic mental if not social, political or ecological safety nets we had to become to allow for the assault on reality we're living out now to succeed. How the bar for what's acceptable and what's normalized just drops in free fall while we're zoned out by the endless barrage of trivial amusements, and the fatal implications of that caliber of apathy not just for the West but civilization across the board.
Exclaim! issues with their premiere of the track, "the metallic hardcore is filthy and sinister, laden with a guitar tone resembling a power tool and with feedback akin to the noise one would make scraping on steel."
Let SECT's bleak "Open Grave" out of the casket through Exclaim! at THIS LOCATION.
Southern Lord will release No Cure For Death on CD, LP, and digital formats on November 24th; stand by for preorder links, official videos from the album, and more to be issued in the days ahead, and see recently-issued footage of the No Cure For Death recording sessions at THIS LOCATION.
Comprised of an international cast of scene veterans, who cut their teeth in that formative moment of political, cynical, antagonistic extremes, SECT unites vocalist Chris Colohan (Cursed, Burning Love, Left For Dead), guitarists James Chang (Catharsis, Undying) and Scott Crouse (Earth Crisis, The Path Of Resistance), bassist Steve Hart (Day Of Suffering), and drummer Andy Hurley (Racetraitor, Fall Out Boy, The Damned Things). The result of these musicians' alignment is a caustic, riotous, belligerent style of vile hardcore fed by a boundless well of socio-political vitriol.
SECT gets right down to the blast beats and breakdowns that fight it out in their chaotic jams. They cut the shit and go for the throat with no time to waste, "because the Orwellian police states and irreparable social and ecological disasters we once saw off on the horizon are now on our front doorsteps, in full swing. And in just such a volatile, precarious moment as this for civilization, there is more reason than ever to keep lashing out at a world more suicidally-bent on its own destruction and the exploitation of people, species and the ecosystem itself, than perhaps ever before in history."
For SECT, this is the purpose of hardcore as they know it, conveying an urgency that transcends age, credentials or scene politics, to convert desperation into real talk and action.
For review copies of No Cure For Death and interviews with SECT in the Americas contact dave@earsplitcompound.com and in Europe contact lauren@rarelyunable.com.
https://www.facebook.com/SectXVX
http://sectxvx.bandcamp.com
http://www.southernlord.com
http://www.facebook.com/SLadmin
http://twitter.com/twatterlord
https://southernlord.bandcamp.com