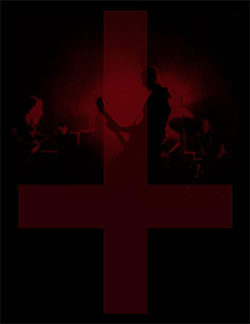 [photo by Rob Sheley]
Virginia/North Carolina-based instrumental metal ministers LOINCLOTH have issued an official video for "Bestial Infernal", the track hailing from the outfit's final LP Psalm Of The Morbid Whore, which was issued last week through Southern Lord.
Packing nine new passages into a half-hour assault, Psalm Of The Morbid Whore's white-knuckled twists wrench in one's gut like a rusted blade. As with their 2012-released Southern Lord debut LP, Iron Balls Of Steel, LOINCLOTH returned to Pershing Hill Sound in Raleigh, North Carolina to record with Greg Elkins, while mastering was handled by Brad Boatright (Sleep, Corrosion Of Conformity, Sunn O))), Obituary) at Audiosiege. Join LOINCLOTH in their final hour of worship.
Worship with LOINCLOTH through "Bestial Infernal" at THIS LOCATION.
Psalm Of The Morbid Whore is streaming in its entirety via Youtube HERE, Bandcamp HERE, and Soundcloud HERE.
Psalm Of The Morbid Whore is out now on Southern Lord; find the vinyl and merch bundles at the Southern Lord webshop HERE, and downloads via Bandcamp HERE.
LOINCLOTH is a culmination of years of worshiping at the altar of the riff. Psalm Of The Morbid Whore arrives with the promise of absolute pummel! Guitarist Tannon Penland and drummer Steve Shelton (Confessor) return with their twisted brand of instrumental metal on the forthcoming Psalm Of The Morbid Whore, this time around also enlisting the infernal hands of Tomas Phillips on bass, who collaborated with Penland in experimental outfit Gauchiste for their self-titled 2012's release through Little Black Cloud Records. Penland, Shelton, and Phillips were joined by guitarist Craig Hilton who contributed to composition and live sonic assaults on tour with Sunn O))) and more.
Alternative Press published an interview with LOINCLOTH alongside an advance premiere of the single "Ibex (To Burn In Hell Is To Refine)," issuing in part, "The track is unusual for LOINCLOTH because not only is it of epic length (just short of eight minutes on an album where the bulk of tracks never get past three), but it also finds the band experimenting with atmospheric vistas along with their pneumatic tightness." Within another intense interrogation of the band Noisey describes LOINCLOTH as, "the Southern Lord-backed instrumental quartet who specializes in impenetrably dense acrobatics marked by sinew, economy, and hypercomplex time signatures that consistently avoid baroque frills and cartoonish machismo."
Svbterranean states, "Keelhaul, Meshuggah and the like are obvious reference points, but LOINCLOTH possess a sound all their own… The band's sound on this record is a lot less frantic and opts for a more suffocating, rhythmically-jarring approach that locks listeners into a corner and strategically batters them with each and every note. It's not quite as spastic, but it's a great deal heavier." Invisible Oranges offers, "Confessor was great because it sounded like doom metal falling down a flight of stairs, but performed in a calculated manner. LOINCLOTH takes that and ups the speed."
For review copies of Psalm Of The Morbid Whore and interviews with LOINCLOTH in North and South America contact dave@earsplitcompound.com and in Europe contact lauren@rarelyunable.com.
http://www.facebook.com/pages/Loincloth/266521466700945
http://www.southernlord.com
http://www.southernlord.bandcamp.com
http://www.facebook.com/SLadmin
http://www.twitter.com/twatterlord