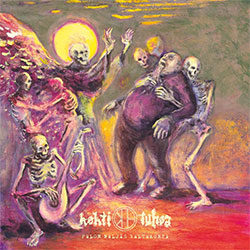 Helsinki, Finland's hardcore/punk squad, KOHTI TUHOA, returns with the by-the-throat second LP, Pelon Neljäs Valtakunta. With two tracks now available for early streaming, the new album will see North American release through Southern Lord in November, with Svart handling the European release.
KOHTI TUHOA's 2015-issued debut LP, Rutiinin Orja, was considered by many as the most exciting hardcore punk record out of Scandinavia in ages. Their sophomore album Pelon Neljäs Valtakunta is constructed from similar building blocks of aggression based at sociopolitical injustice, but with the band's sound taking a step further towards genre classicists such as Discharge and Disorder, not to mention classic Finnish hardcore punk acts such as Terveet Kädet, Varaus, and Riistetyt.
Recorded in May 2017 at V.R. Studio in Turku, Finland, Pelon Neljäs Valtakunta was engineered by Jussi Vuola, mixed by Jussi Vuola and KOHTI TUHOA, mastered and cut by Jukka Sarapää at Timmion Cutting, and finalized with artwork by returning artist Jaakko Karjula. The album crushes twelve relentless tracks in twenty minutes, including a cover of "Saatanan Lampaat" by Painajainen.
Stream KOHTI TUHOA's "Kiire Läpi Elämän" and "Meille On Valehdeltu" from Pelon Neljäs Valtakunta at Southern Lord HERE.
Southern Lord will issue Pelon Neljäs Valtakunta on LP and digital formats on November 24th. Digital preorders are live HERE; stand by for physical preorder links.
KOHTI TUHOA advances the release of the riotous new Pelon Neljäs Valtakuntawith their first North American tour dates, having scheduled a run of East Coast dates for early October. The tour starts October 6th in Philadelphia and blasts through Washington, Richmond, Pittsburgh, New York City, Boston, Montreal, and ends in Toronto October 14th. See confirmed dates below and watch for new shows to be announced.
KOHTI TUHOA Tour Dates:
10/06/2017 Glitter Galaxy – Philadelphia, PA
10/07/2017 Slash Run – Washington, DC
10/08/2017 VSC – Richmond, VA
10/09/2017 The Rock Room – Pittsburgh, PA
10/10/2017 Brooklyn Bazaar Cellar – Brooklyn, NY
10/11/2017 Ralph's Rock Diner – Boston, MA
10/12/2017 Cafe Atomic – Montreal, QC
10/14/2017 Coalition – Toronto, ON
Pelon Neljäs Valtakunta Track Listing:
1. Hajota Ja Hallitse
2. Anna Kaikkes
3. Meille On Valehdeltu
4. Ei Pelastusta
5. Saatanan Lampaat
6. Jaettu Maa
7. Saastaa
8. Kiire Läpi Elämän
9. Pelon Neljäs Valtakunta
10. Maan Tapa
11. Oma Helvetti
12. Jotain Sisältä Rikki
Review copies of Pelon Neljäs Valtakunta will be released shortly. For all interviews and coverage of KOHTI TUHOA in North America contact dave@earsplitcompound.com and internationally contact nathan@svartrecords.com.
http://kohtituhoa.bandcamp.com
http://www.facebook.com/kohtituhoa
http://www.southernlord.com
http://southernlord.bandcamp.com
http://www.facebook.com/SLadmin
http://twitter.com/twatterlord