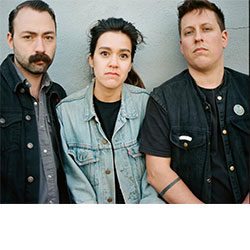 [photo by Pascha Marrow]
Montreal three-piece BIG|BRAVE will release their sophomore LP, Ardor, this Friday through Southern Lord. With just three songs that clock in for a forty-minute-long album, BIG|BRAVE has adopted a nearly unbearable level of urgency and intensity that weaves throughout Ardor. Chock full of swirling static, booming guitars, powerful drums-all the hallmarks that have made them one of experimental rock's most exciting acts today-the album can be streamed in full today, featured on Bandcamp Daily, alongside an interview with the band.
Stream BIG|BRAVE's Ardor, featured at Bandcamp RIGHT HERE.
As with their previous release, Au De La, the new Ardor album was recorded at the Hotel2Tango, this time by Radwan Ghazi Moumneh (of Jerusalem In My Heart). Jessica Moss (Thee Silver Mt Zion Memorial Orchestra), who was a special guest on Au De La, played violin on all the three new tracks, and Thierry Amar (Godspeed You! Black Emperor) played contrabass on two of the tracks.
Since their inception in 2012, BIG|BRAVE has demonstrated the fluidity of experimental rock and put everything into their music, until there's nothing left to give. Their particular art in musical refinement expands ever gradually, unfurling into a very heavy, strong, and elevating force. As comfortable as they are with tidal waves of sound, BIG|BRAVE is unafraid to experiment with silence, oscillating between sparse, gentle arrangements and deep swells of noise.
Look for Ardor to be released this Friday, September 15th via Southern Lord. Watch for more news to be released in the weeks ahead.
BIG|BRAVE has also announced new tour dates coinciding with the release of Ardor, including one-off shows in Montreal and Brooklyn this month, and a run of North American dates supporting labelmates Unsane in December, with more dates to be announced.
BIG|BRAVE Tour Dates:
9/15/2017 Breakglass Studio – Montreal, QC
9/16/2017 Saint Vitus Bar – Brooklyn, NY
12/12/2017 7th St. Entry – Minneapolis, MN w/ Unsane
12/13/2017 Cactus Club – Milwaukee, WI w/ Unsane
12/14/2017 Grog Shop – Cleveland, OH w/ Unsane
12/15/2017 Loving Touch – Detroit, MI w/ Unsane
12/16/2017 Hard Luck Bar – Toronto, ON w/ Unsane
12/18/2017 Once – Boston, MA w/ Unsane
12/19/2017 Kung Fu Necktie – Philadelphia, PA w/ Unsane
For review copies of Ardor and interviews with BIG|BRAVE in North America contact dave@earsplitcompound.com and in Europe contact lauren@rarelyunable.com.
http://www.bigbrave.ca
http://www.bigbrave.bandcamp.com
http://www.facebook.com/bigbravemusic
http://www.southernlord.com
http://www.southernlord.bandcamp.com
http://www.facebook.com/SLadmin
http://www.twitter.com/twatterlord