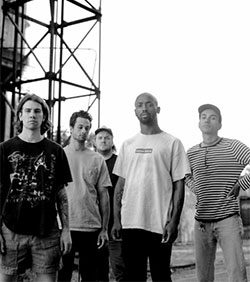 [photo by Tracy Nguyen]
Recent Southern Lord signees JESUS PIECE have announced a barrage of new tour dates for the months ahead, including a US tour with Comeback Kid and Burn.
The ongoing JESUS PIECE European tour runs through August 24th. Upon their stateside return, the band has confirmed two new shows in Amityville and Toronto with Code Orange, Eternal Sleep, and Trail Of Lies on September 1st and 2nd. JESUS PIECE will embark on a run into the Midwestern US and lower Canada with shows October 1st through 5th with shows in Franklin, Fargo, Regina, Calgary, and Vancouver.
The new tour that was just announced will see JESUS PIECE out on Comeback Kid's Outsider USA Tour, also joined by NYHC legends Burn. The tour kicks off October 6th and runs through October 23rd, beginning in the Pacific Northwest and carving a counter-clockwise loop into the country back to the East Coast. Additional tour dates are to be expected.

JESUS PIECE Tour Dates:
9/01/2017 Revolution Music Hall – Amityville, NY w/ Code Orange, Eternal Sleep, Trail Of Lies
9/02/2017 Hard Luck Bar – Toronto, ON w/ Code Orange, Eternal Sleep, Trail Of Lies
10/01/2017 JJ's/house show – Franklin, WI
10/02/2017 Red Raven – Fargo, ND
10/03/2017 Exchange – Regina, SK
10/04/2017 Palomino – Calgary, AB
10/05/2017 333 Venue – Vancouver, BC
w/ Comeback Kid, Burn:
10/06/2017 West Seattle American Legion Hall – Seattle, WA
10/07/2017 Analog Theatre – Portland, OR
10/08/2017 The Cornerstone – Berkeley, CA
10/09/2017 Union – Los Angeles, CA
10/10/2017 Chain Reaction – Anaheim, CA
10/11/2017 The Nile Theatre – Mesa, AZ
10/13/2017 Paper Tiger – San Antonio, TX
10/14/2017 Dirty 30 – Dallas, TX
10/15/2017 Walter's Downtown – Houston, TX
10/16/2017 Spanish Moon – Baton Rouge, LA
10/17/2017 Kings Barcade – Raleigh, NC
10/18/2017 Black Box – Philadelphia, PA
10/19/2017 Brooklyn Bazaar – Brooklyn, NY
10/20/2017 The Raven – Worcester, MA
10/21/2017 The Chance – Poughkeepsie, NY
10/22/2017 Cattivo – Pittsburgh, PA
10/23/2017 El Club – Detroit, MI
JESUS PIECE is a Philadelphia hardcore band that works tirelessly to play to everyone they can. Their anthems lyrically range from personal struggle and loss, to racism, police brutality, and many other social and political injustices. The band formed in 2015 and self-released their first demo/EP in the same year, followed by a self-released EP in the Summer of 2016. Most recently, Bridge Nine Records released a split 7″ between JESUS PIECE and Malice At The Palace earlier this year. The band has paved their own way into the national scene by booking multiple headlining coast-to-coast tours among many bouts of regional touring and performances at notable festivals including This Is Hardcore, Nature World Fest, Sound And Fury, FYA Fest, and others. 2018 will see the band record their debut LP for release through Southern Lord.
For coverage of JESUS PIECE in North America contact dave@earsplitcompound.com and internationally contact lauren@rarelyunable.com.
https://twitter.com/jesuspiecehc
https://www.instagram.com/jesuspiecehc
https://jesuspiecehc.bandcamp.com
http://www.southernlord.com
http://southernlord.bandcamp.com
http://twitter.com/twatterlord
https://www.facebook.com/SLadmin