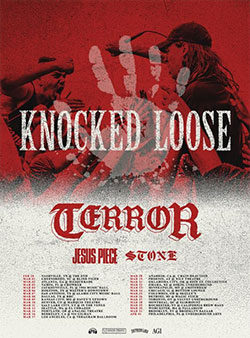 Following a US tour supporting Comeback Kid and Burn this fall, as well as other widespread regional live actions this year, hardcore outfit JESUS PIECE continues to announce new tour dates well-into the new year.
This week, JESUS PIECE announces that they'll join Knocked Loose, Terror, and Stone on an extensive North American tour in early 2018. The newly-announced tour begins February 28th in Nashville, then circling through the US and Canada through all of March, the tour ending on April 1st in JESUS PIECE's hometown of Philadelphia.
Additional tour dates for JESUS PIECE will be announced in the coming weeks and throughout next year as the band records their debut LP for Southern Lord for release mid-year. Stand by for continuous updates. Fans of Disembodied, Cold As Life, Xibalba, Harm's Way, God's Hate, and similar groove-heavy acts of metallic brutality are advised to stay tuned.
The entire JESUS PIECE set from this year's This Is Hardcore fest is playing RIGHT HERE and another hometown set from October is playing HERE.
JESUS PIECE w/ Knocked Loose, Terror, Stone:
2/28/2018 The End – Nashville, TN
3/01/2018 Blind Tiger – Greensboro, NC
3/02/2018 The Masquerade – Atlanta, GA
3/03/2018 Crowbar – Ybor City, FL
3/04/2018 1904 – Jacksonville, FL
3/06/2018 Walters Downtown – Houston, TX
3/07/2018 Alamo City Music Hall – San Antonio, TX
3/08/2018 RBC – Dallas, TX
3/09/2018 Davey's Uptown – Kansas City, MO
3/10/2018 Marquis Theatre – Denver, CO
3/11/2018 In The Venue – Salt Lake City, UT
3/13/2018 El Corazon – Seattle, WA
3/14/2018 Analog Theater – Portland, OR
3/16/2018 924 Gilman – Berkeley, CA
3/17/2018 Teragram Ballroom – Los Angeles, CA
3/18/2018 Chain Reaction – Anaheim, CA
3/19/2018 Nile Theater – Mesa, AZ
3/21/2018 89th Street – Oklahoma City, OK
3/22/2018 Sokol Underground – Omaha, NE
3/23/2018 Amsterdam Bar & Hall – St. Paul, MN
3/24/2018 Bottom Lounge – Chicago, IL
3/25/2018 Skully's Music Diner – Columbus, OH
3/26/2018 The Magic Stick – Detroit, MI
3/27/2018 Velvet Underground – Toronto, ON
3/28/2018 Theatre Fairmount – Montreal, QC
3/29/2018 California Brew Haus – Rochester, NY
3/30/2018 The Palladium – Worcester, MA
3/31/2018 Brooklyn Bazaar – Brooklyn, NY
4/01/2018 Underground Arts – Philadelphia, PA
JESUS PIECE is a band that works tirelessly to play to everyone they can. Their anthems lyrically range from personal struggle and loss, to racism, police brutality, and many other social and political injustices. The band formed in 2015 and self-released their first demo/EP in the same year, followed by a self-released EP in the Summer of 2016. Most recently, Bridge Nine Records released a split 7″ between JESUS PIECE and Malice At The Palace in early 2017. The band has paved their own way into the national scene by booking multiple headlining coast-to-coast tours among many bouts of regional touring and performances at notable festivals including This Is Hardcore, Nature World Fest, Sound And Fury, FYA Fest, and others. 2018 will see the band record their debut LP for release through Southern Lord.
For coverage of JESUS PIECE in North America contact dave@earsplitcompound.com and internationally contact lauren@rarelyunable.com.
https://twitter.com/jesuspiecehc
https://www.instagram.com/jesuspiecehc
https://jesuspiecehc.bandcamp.com
http://www.southernlord.com
http://southernlord.bandcamp.com
http://twitter.com/twatterlord
https://www.facebook.com/SLadmin