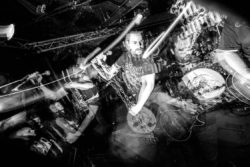 Next week, Southern Lord will decimate the metal underworld with the release of Beyond The Wall Of Desolation, the debut LP by Massachusetts-based HIGH COMMAND. With their album about to invade the public, the band has just posted a run of Eastern North American Fall tour dates with fellow crossover outfit Enforced.
The eight tracks on HIGH COMMAND's Beyond The Wall Of Desolation deliver an onslaught of searing thrash/hardcore aggression. The album explodes with the band's ravenous delivery, magnified by the powerful recording which took place at Machines With Magnets (Daughters, The Body, Lingua Ignota), and mastering job courtesy of Brad Boatright at Audiosiege (Obituary, Integrity, Black Breath).
Following their extensive tour with Spirit Adrift over the summer, HIGH COMMAND announces their next new live excursion in support of Beyond The Wall Of Desolation, this time with Virginia-based Enforced. Beginning October 18th in Enforced's hometown of Richmond, the At The Walls Of Desolation Tour 2019 will bulldoze northward through the Northeast US and into Canada before coming to a smoldering finale in HIGH COMMAND's hometown of Worcester on November 2nd.
HIGH COMMAND declares, "As lightning strikes beneath the crimson moon an unholy alliance of sonic devastation has been forged. Gather warriors! Harness the power of steel! For soon we unleash a vehement assault across the eastern realm…"
Southern Lord will release Beyond The Wall Of Desolation on CD, LP, and digital next Friday, September 27th. Find preorders at the label webshop HERE and at Bandcamp HERE.
HIGH COMMAND At The Walls Of Desolation Tour 2019 w/ Enforced:
10/18/2019 Wonderland – Richmond, VA
10/19/2019 Maywood – Raleigh, NC
10/20/2019 Raindogs – Jacksonville, FL
10/21/2019 Night Moves – Tallahassee, FL
10/22/2019 Poor Boys – New Orleans, LA
10/23/2019 The Firehouse – Birmingham, AL
10/24/2019 Caledonia Lounge – Athens, GA
10/25/2019 Hi Tone – Memphis, TN
10/26/2019 Subterranean – Chicago, IL
10/27/2019 North End Yacht Club – Cincinnati, OH
10/28/2019 Ottawa Tavern – Toledo, MI
10/29/2019 Rock Room – Pittsburgh, PA
10/30/2019 See Scape – Toronto, ON
10/31/2019 Sugar City – Buffalo, NY
11/01/2019 Piranha Bar – Montreal, QC
11/02/2019 The Raven – Worcester, MA
Review copies of Beyond The Wall Of Desolation are now available. For interviews and coverage of HIGH COMMAND in The Americas contact dave@earsplitcompoud.com and all others contact lauren@rarelyunable.com.
https://highcommand.bandcamp.com
https://www.facebook.com/HighCommand
https://www.southernlord.com
https://southernlord.bandcamp.com
https://twitter.com/twatterlord
https://www.facebook.com/SLadmin
https://www.instagram.com/southernlordrecords