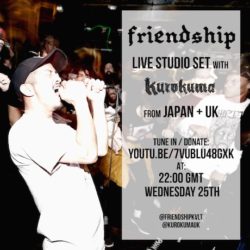 Due to the cancellation of Friendship (JPN – Grind/PV – Southern Lord) and Kurokuma's (UK – Doom Metal – Astral Noize Records) UK tour after the spread of the COVID-19 virus, the two bands will be hosting a very special streamed performance this Wednesday Mar 25th at 22:00 GMT. The time has been decided as a reasonable meeting point to view the stream from different time zones.
The cancellation of the tour has lead to both bands losing approximately over £4k in flight cancellations and lost revenue. A GoFundMe donation link has been set up to help the bands recoup their losses and hopefully reschedule the tour at a later date. Donations can be made via GoFundMe at this link: https://www.gofundme.com/f/recoup-costs-for-friendshipkurokuma This stream will fall on the night of the planned last date of the tour.
Each band will be streaming a set in their own practice rooms from Tokyo, Japan and Sheffield, UK respectively. Due to health and safety concerns amidst the COVID-19 pandemic, every effort will be taken to ensure that each band comes into contact with as few bodies as possible with strict hygiene procedures set in place. Expect to hear sickening grinding hardcore and pummelling psychedelic sludge spanning continents.
Friendship were due to tour their most recent album Undercurrent – released through Southern Lord and Daymare last year – with seven UK dates confirmed with Kurokuma, whose latest split 7″ was released through Astral Noize Records last year.