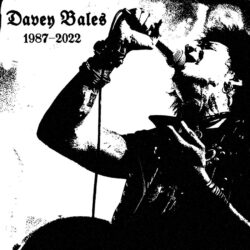 The punk icon and beloved son, nephew, cousin and bandmate passed away on January 29, 2022. // A GoFundMe has been launched for his eternal rest at Hollywood Forever Cemetery.
Davey Bales was a powerful frontman, a prolific writer, a dear friend and a cherished family member.  He touched and inspired the lives of so many people around the world through his music, poetry, style, sense of humor, and dedication to his craft.  
Bales passed away sadly and suddenly on January 29th, 2022. A treasure in the Los Angeles punk scene and beyond, Davey was well-known for founding and fronting the SoCal deathrock band The Wraith. He released his first EP with the group in 2017 followed by their debut full-length Gloom Ballet in 2019. The group's irresistibly distinctive sound – skeletal bass lines and tribal beats propelling Bales' poetic, anguished bark – immediately gained a following. Southern Lord's Greg Anderson comments: "Our deepest condolences go out to Davey Bales family, friends and band members of The Wraith. He was an amazing singer and when I had the pleasure of being in his company his dark creative energy was infectious. REST IN POWER."
Members of The Wraith comment, "We are all devastated by Davey's sudden loss and were not prepared for the high cost of creating the memorial he deserves, to honor his memory and properly say our last goodbyes."
The group has launched a GoFundMe to help cover the cost of a glass-fronted cremation niche at Hollywood Forever Cemetery for Bales. Please consider donating, as any amount will truly help his family during this difficult time. Link to donate is here.
The Wraith continue, "Farewell, Davey. The music and poetry you created from your struggle will live on. Your performances will never be forgotten. Be at peace now, brother."