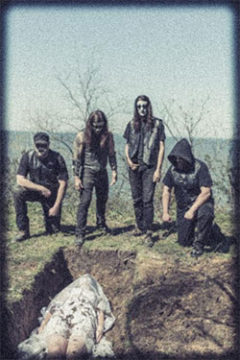 As Southern Lord prepares to release the Embryonic Devils debut LP by Ohio black/death metal sect CRYPT ROT this Friday, the entire album has been unleashed upon the public through an early stream at No Clean Singing.
Formed in 2016 by a crew of scene veterans including several current/former members of Homewrecker, CRYPT ROT enlisted Bill Korecky at the Mars Compound (Integrity, Ringworm, Homewrecker) for the recording of Embryonic Devils, the resulting anthems delivering a crushing a high-gain sound that will grab listeners with its ferocity.
No Clean Singing offers in part of CRYPT ROT's auditory horror, "Because I'm a slobbering, slavish fan of old school Swedish death metal, Embryonic Devils lit me up like a gasoline-soaked torch. The riffs have that massive, corrosive, toxic sound that one associates with the style, and with the aid of a skull-cracking rhythm section, they're used to hurl the listener into a war zone, mixing barrages of automatic weapons fire and crushing tank attacks – and occasionally devolving into a doomed stagger… in a nutshell, Embryonic Devils will brutalize you, energize you, and fill you with skin-crawling dread."
Unleash CRYPT ROT's intense Embryonic Devils only at No Clean Singing RIGHT HERE.
Embryonic Devils shall be released via Southern Lord on LP and digital formats this Friday, April 28th; preorders are available HERE.
CRYPT ROT has just filmed a video for the track "Pit Of Morbidity" which will see release in the weeks ahead. The band also recorded three new songs, which will later appear on a split release with Scorched. The band plays a local record release show for Embryonic Devils this Friday, and will then hit the road with Southern Lord labelmates Like Rats for a short tour through through Cleveland, New York, Philadelphia, Buffalo, and Columbus. Stand by for further updates and tour dates to be announced.
CRYPT ROT Tour Dates:
4/28/2017 house show – Ashtabula, OH w/ Homewrecker, Little Less Least, Anthems Of Apathy
5/17/2017 Now That's Class – Cleveland, OH w/ Like Rats
5/18/2017 Lucky 13 Saloon – Brooklyn, NY w/ Like Rats
5/19/2017 Kung Fu Necktie – Philadelphia, PA w/ Like Rats
5/20/2017 Dreamland – Buffalo, NY w/ Like Rats
5/21/2017 Ruby Tuesday – Columbus, OH w/ Like Rats
5/22/2017 Subt (downstairs) – Chicago, IL w/ Like Rats