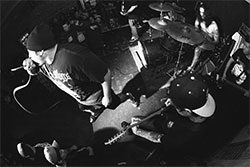 Southern Cali's lethal XIBALBA has just unleashed a new video for "Soledad," one of the most punishing tracks on their Hasta La Muerte LP, released in 2012 by Southern Lord.
Filmed by Mike EYK and edited by Whobangin', "Soledad" was culled from footage from their seemingly nonstop tour schedule over the past two years. XIBALBA's monstrous on-stage delivery and interaction with the crowds amidst brutal dance floor action throughout the video, plus the copious amounts of partying captured between gigs, more than adequately displays the band's incessant hard-touring ethos.
Check out "Soledad" RIGHT HERE.
XIBALBA earlier released an official video for the LP's title track HERE, and Hasta La Muerte can be heard in its entirety HERE.
Having unloaded their downtuned, beatdown-ready death-infused hardcore onto North American audiences steadily for the past two years, in addition to tours of Europe and Japan this year, the band has just locked a new Winter excursion, set to sweep across the US this February and March. XIBALBA's trek begins February 15th, as they cut through the center of the country with a bout of headlining dates in order to join up with the rest of the tour package in Chicago on February 20th, which sees them providing support for Comeback Kid, also joined by Backtrack, Downpresser and To The Wind. The caravan then hits East Coast and Southeast, storms through SXSW and then pushes west, closing with a round of shows in California.
XIBALBA Tour Dates:
2/15/2014 East Side Joe's – Las Vegas, NV
2/16/2014 Salt Haus – Salt Lake City, UT
2/17/2014 Helms Deep – Denver, CO
2/18/2014 Jackpot Saloon – Lawrence, KS
2/19/2014 A220 East – Cedar Falls, IA
XIBALBA w/ Comeback Kid, Backtrack, Downpresser, To The Wind:
2/20/2014 Beat Kitchen – Chicago, IL
2/21/2014 The Pyramid Scheme – Grand Rapids, MI
2/22/2014 Pike Room – Pontiac, MI
2/23/2014 Agora Theater – Cleveland, OH
2/25/2014 Middle East – Boston, MA
2/26/2014 Santos Party Haus – New York, NY
2/27/2014 Empire – West Springfield, VA
2/28/2014 Reverb – Reading, PA
3/01/2014 The Casbah – Charlotte, NC
3/02/2014 Rockettown – Nashville, TN
3/04/2014 The Masquerade – Atlanta, GA
3/05/2014 Epic Problem – Tampa, FL
3/06/2014 Backbooth – Orlando, FL
3/07/2014 Speakeasy – Lake Worth, FL
3/08/2014 Atticus Bar – Jacksonville, FL
3/09/2014 The Forge – Birmingham, AL
3/10/2014 Goodtime Charlie – Tupelo, MS
3/12/2014 Never Say Never Festival – McAllen, TX
3/14/2014 TBA – Austin, TX @ SXSW
3/15/2014 Walters – Houston, TX
3/16/2014 South By So What – Dallas, TX
3/19/2014 Pub Rock – Phoenix, AZ
3/20/2014 Chain Reaction – Anaheim, CA
3/21/2014 Industry Theater – Lancaster, CA
3/22/2014 The Metro – Oakland, CA
3/23/2014 Rock City Studios – Ventura, CA