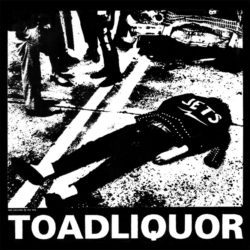 Southern Lord Recordings presents Cease & Decease, a double-LP discography by oppressive sludge juggernaut, TOADLIQUOR, released as part of Southern Lord's 20th Anniversary series. The unreleased newly-recorded song included on the record, "(Closing Sections Of) Inter-Stellar Space," is now streaming at Cvlt Nation.
The mysterious TOADLIQUOR continues to hold its position as one of the most crushing sludge outfits from the '90s, while maintaining a shroud of mystery and diehard cult following two decades later. Not only does the collection encapsulate the entire 1993-released Feel My Hate – The Power Is The Weight – R.I.P. Cain LP as well as some unearthed extremely scarce and previously-unreleased recordings, it also includes a newly recorded song that was especially prepared, written and documented for this release. Cease & Decease also marks the first time the band's entire four-part "Inter-Stellar Space" opus is pressed together; the first three sections were found on different releases, and the closing section had never been recorded before now.
Several of the initial recordings were originally recorded by Tim Green (The Fucking Champs, The Nation of Ulysses) and some of the resurrected tracks on Cease & Decease have here been remastered by Brad Boatright at Audiosiege. Housed in a deluxe gatefold Stoughton sleeve which includes existing as well as brand new artwork, Cease & Decease is pressed on two massive slabs of vinyl, with a full black pressing and a limited silver pressing strictly exclusive for the label's subscription series.
Cvlt Nation is now streaming the newly-recorded and previously unreleased "(Closing Sections Of) Inter-Stellar Space," stating of the track, "TOADLIQUOR were all about creating timeless fucking doom laced with crust. The vocals from this band sound like tortured mental patients screaming to be heard. TOADLIQUOR had the whole Sabbath riff thing, but flipped it with more distorted vibe, plus their sound had an undertone of sinister and brutal crust… To say that it's an honor to share this with you is a HUGE understatement."
Stream TOADLIQUOR'S "(Closing Sections Of) Inter-Stellar Space" at Cvlt Nation HERE.
Find Cease & Decease at the Southern Lord USA shop HERE and Bandcamp HERE.
Cease & Decease Track Listing:
LP 1 – The Complete Sections Of Inter-Stellar Space
A1. (Opening Sections Of) Inter-Stellar Space
A2. (Continuing Sections Of) Inter-Stellar Space
B1. (Second Continuing Sections Of) Inter-Stellar Space: Love
B2. (Closing Sections Of) Inter-Stellar Space
LP 2 – The Feel My Hate – The Power Is The Weight – R.I.P. Cain LP
C1. Gnaw
C2. Swarm
C3. Charred
D1. Fratricide: A Requiem
D2. Survival Is The Fittest
D3. Tenderloin
D4. Nails
http://www.southernlord.com
http://southernlord.bandcamp.com
https://www.facebook.com/SLadmin
http://twitter.com/twatterlord