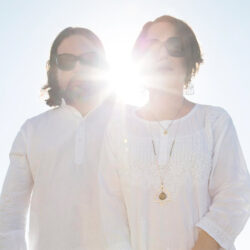 "wields a unique energy that could only come from this strange union" – AllMusic
Devotional is the new collaborative release from The Lord (Greg Anderson of Sunn O))), Goatsnake and Engine Kid) with vocalist and violinist Petra Haden. The album is a rapturous and heady offering of wordless vocalizations, droning guitars, and heaviness explored in unexpected and intoxicating ways. On Devotional, through a haze of incense, flowing robes, and secret mantras, Petra Haden's voice rings out over constant drones in ecstatic chants throughout this musical investigation into the myriad of ways in which worship can lure and intoxicate. This is a journey that Haden and Anderson go on together, the guitar and vocals combined like the call and response of a guru and its congregation.
Petra Haden first worked with Greg Anderson during his time in Goatsnake, as well as on the second SUNN O))) studio album, ØØ Void. Now, two decades later, the duo reunite for Devotional. Anderson comments, "It had been about 20 years since we had recorded together and Petra is as she was then: a master improviser and otherworldly vocalist." Haden continues, "It was so much fun getting to play and sing on SUNN O)))'s album ØØ Void. 20 years later, I'm on stage with them at The Mayan Theater in Los Angeles singing and playing on the encore. I was in heaven! After the show, Greg and I talked about working on more music together. When I heard his ideas, I already had melodies in my head. I recorded some ideas at home and it developed from there. Greg is a really deep listener and he's so much fun to work with. Getting to collaborate with Greg reminds me why I love to sing and improvise. I feel free and happy. That's what music is all about."
Watch (+ share) a visualizer for "Yaman," which features a montage of footage from the live performance debut of The Lord + Petra Haden at the Fulcrum Arts Festival in Los Angeles.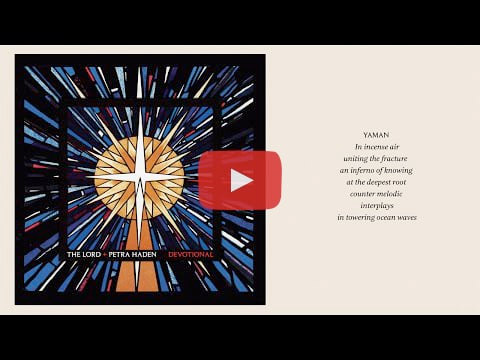 Listen to Devotional on digital streaming platforms here.
Inspirations for Devotional came from deep listening to Indian classical music ("a loose metal-head caveman interpretation of the Indian modal scale," comments Anderson), as well as a fascinating look at the chaotic and unbelievable life of Ma Anand Sheela and the Rajneesh community. Anderson elaborates, "I've had an overall fascination with religious cults all my life, in particular the complete sacrifice of self and surrender to a particular belief or being, person… trying to decipher why someone does that and trying to imagine what must be in their head when doing so. The only thing I can possibly equate is how I feel about music; creating it performing it. I try to channel what I think that feeling is into my playing and definitely in the creation of the music for this album."
He continues, "Growing up in the Pacific Northwest (especially in the 80's), I would see what appeared to be hippies all dressed in purple around the University of Washington area passing out literature and having deep philosophical discussions with people. I wanted to know who they were and what they were about. At that time, I wasn't able to learn much other than some unsavory, controversial news stories that made it to our local news station. A few years ago, an incredible documentary (Wild, Wild Country) about the Rajneesh, Baghwan/Osho and Ma Anand Sheela came out and I devoured every episode of it… a few times. I was again fascinated by their complete and total devotion to one person (Osho) and his philosophies. The devotees seemed completely and utterly blissful, in a complete state of nirvana. Ultimately the story has a very dark, sinister twist to it and in some ways that is an appropriate analysis of the music of the album as well. The contrast of serenity and darkness."
Officially released today on physical and digital formats, Devotional is a seductive, hypnotic and intriguing new chapter in The Lord's exploration of heavy music. Look for the release in stores and online, and check out the liner notes by Ian Astbury for an esoteric perspective on the music.
Track listing:
Rise To Diminish
What Lies Behind Us Lies Buried Because It Is Dead
Ma Anand Sheela
For more on THE LORD, visit: