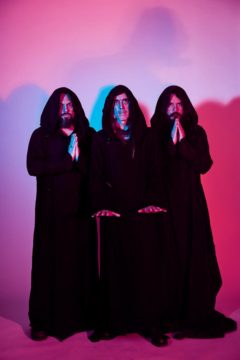 SUNN O))) has revealed a US listening session in addition to their events in London and Paris in the lead-up to the release of Life Metal, set for release April 26th through Southern Lord.
Confirmed for April 13th, the Brooklyn-based listening session will take place at Future Space in collaboration with Southern Lord Recordings and The Tinnitus Music Series. The experience will feature a tower of loudspeakers, engulfing walls of fog, and throbbing color. A congregation of guests are invited to traverse the outer zones of consciousness and expanses of the cosmos through sound/time and sound/energy. This event is free, open to the public, and available on a first come, first serve basis.
SUNN O)))'s Stephen O'Malley and Greg Anderson offer, "With great pleasure we present a few special public deep listening sessions of our forthcoming album Life Metal. Our wish and intention is to offer the astounding presence, detail, and color of this recording on great PA systems in a public situation as an introduction. Part of the joy of producing and mastering this album in the studio was that we were fortunate to be able to listen on the perfect high-fidelity playback situations for the record, top precise studio sound guided by the best ears in the business. With these public listening sessions, we hope to get a step closer to that experience of being inside the studio for you all at these special events, a few weeks before the album is unleashed upon the world."
See SUNN O))) on the road April 17th-28th and RSVP for a Life Metal listening session April 13th at Future Space in Brooklyn HERE.
Life Metal, their first studio album in four years, will be supported by SUNN O)))'s first US tour since 2017 and the premier stateside tour of their 2019-2020 season, including a newly announced stop in Pittsburgh at Carnegie Homestead Music Hall, as well as stops at The Masonic Lodge in Detroit, Howard Theatre in DC, Agora Theatre in Cleveland, Rockefeller Chapel in Chicago (second show added), The Caves in Pelham, Tennessee, and Brooklyn Steel in NYC. Dates and details can be found below.
SUNN O))) will collaborate with Record Store Day (#RSD19) to release Life Metal for the first time on CD and vinyl on April 13th via USA/UK/EU indie retail. April 26th marks the official release date of the digital and all other vinyl variants via Southern Lord, and CD and LP will be available to order from SUNN O))) and Southern Lord stores on April 19th.
Watch SUNN O)))'s Life Metal album teaser on YouTube HERE.
SUNN O))) Let There Be Drone (Multiple Gains Stages):
4/17/2019 Agora Ballroom – Cleveland, OH [info]
4/18/2019 Masonic – Detroit, MI [info]
4/19/2019 Rockefeller Chapel – Chicago, IL [info] *SOLD OUT
4/20/2019 The Caverns – Pelham, TN [info]
4/22/2019 Rockefeller Chapel – Chicago, IL *BY DEMAND SECOND SHOW ADDED
4/24/2019 Underground Arts – Philadelphia, PA [info]
4/25/2019 Brooklyn Steel – Brooklyn, NY [info]
4/26/2019 College Street – New Haven, CT [info]
4/27/2019 Carnegie Homestead Music Hall – Pittsburgh, PA [info]
4/28/2019 The Howard – Washington, DC [info]
Public listening event details:
April 9th – The Institute Of Light in Hackney, London
This is a free Pitchblack Playback event, there will be two sessions commencing approximately 7:00pm and 8:30pm. Limited space available, RSVP at this link.
April 13th – Future Space, Brooklyn
RSVP ticketed event, from 7:30pm-10:30pm. The album will be played back in its entirety at maximum volume. RSVP at this link.
Review copies of Life Metal will be issued in the weeks ahead. For coverage of SUNN O))) in The Americas contact dave@earsplitcompound.com, all others contact lauren@rarelyunable.com.
https://sunn.southernlord.com
https://www.instagram.com/sunnofficial
https://www.facebook.com/SUNNthebandOfficial
https://sunn.bandcamp.comhttps://sunn-live.bandcamp.com
http://www.southernlord.comhttp://southernlord.bandcamp.com
http://twitter.com/twatterlord
https://www.facebook.com/SLadmin
https://www.instagram.com/southernlordrecords