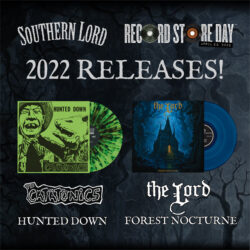 Find the albums digitally on Bandcamp + look for them in record stores this weekend.
Greg Anderson Unleashes His First Full-Length Under 'The Lord' Moniker
On April 23rd, Southern Lord will release the debut full-length album from The Lord—Forest Nocturne— first as a special LP Record Store Day release, and then on digital and further LP formats on July 29th.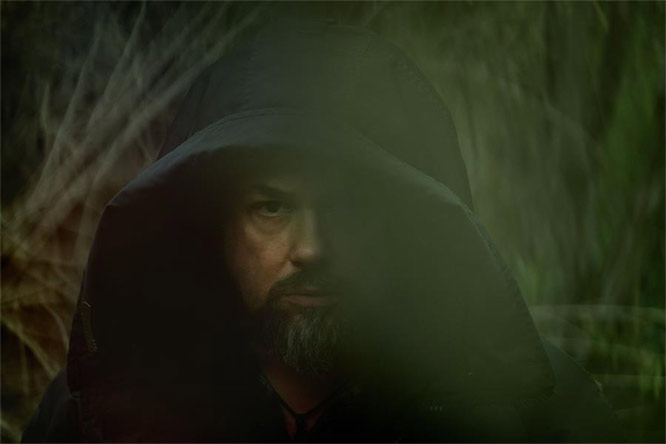 Forest Nocturne sees Anderson (guitarist of SUNN O))), Goatsnake & Southern Lord curator) taking cues from legendary film composers: John Carpenter and Bernard Hermann, in order to create cinematic landscapes which are heavy with tension, and offset by the injection of lethal doses of early 90s Scandinavian Death Metal – with Attila Csihar (of notorious Norwegian black metal band Mayhem & frequent SUNN O))) collaborator) lending his putrid vocals to final track "Triumph of the Oak."
For Forest Nocturne, Anderson worked with renowned producer Brad Wood. Dan Seagrave's epic and fantastical style is instantly recognizable on the album's startling artwork, something which seems to depict an ancient and unknowable force in the woodlands. Forest Nocturne is described by Anderson as "music of the night," but inspired by imagery conjured on daytime hikes, and majestic, beautiful trees, which he sees as survivors— perhaps the last known connection that we have to an ancient world, and acting as a connector between past, present and future of the human race and of our time on this planet.
Listen to the official audio for The Lord's "Triumph of the Oak" on Bandcamp.
Greg Anderson began making music in the mid-eighties with hardcore bands False Liberty and Brotherhood before refining his musicality during the nineties with the post-hardcore collective Engine Kid. From that point on, the musical direction started shifting, channelling his love of tone, riffs and repetitive sound, vital elements that feed into the meditative cosmos of SUNN O))), and the 'low and slow' sounds of Goatsnake, both of whom find different ways to move beyond confines and tropes of their respective sound worlds.
In August and September 2021 respectively, Greg Anderson released two singles under the name The Lord; "Needle Cast" with Robin Wattie (the unmistakably emotive vocalist of BIG|BRAVE) and "We Who Walk In Light" with William Duvall (of Seattle rock legends Alice In Chains and hardcore-punk group Neon Christ). Unintentionally moving in a different direction from those bands within which he found his feet, Anderson was able to take on the mantle of The Lord in a new, pictorial approach to heavy music. Through this process, he found himself moved to collaborate with vocalists he admires.
The Catatonics Re-Release their Hunted Down EP on Southern Lord.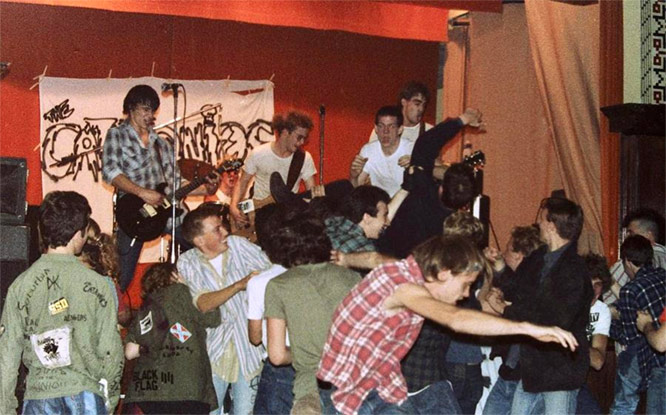 "The Catatonics were just about the most intense thrash band I'd ever seen back in the day. Just nuts. They out Boston-ed all of the 'This Is Boston Not LA' bands. Back then, they were the go-to band in the Syracuse hardcore scene. You pretty much needed their blessings in Upstate NY." – Kevin Seconds (7 Seconds)
"The pioneers of the original Syracuse hardcore scene. Still one of my favorites.. metallic thrash that kills at any time. 'Hunted Down' is between SSD and DYS on my shelf." – Karl Buechner (Earth Crisis)
"'Hunted Down' is the sort of record that usually eludes you for one reason or another, but first inhabits crucial minutes of mixtapes, the sweet crackle at the tail end of some die-hard's radio set, or maybe the pleasant surprise at a DJ night when someone decides to speed things up and you hear and recognize the first few guitar notes of 'Never Again' and you get happy 'cause you're in on the secret of The Catatonics. I managed to score mine in an unlikely place in Toronto, and coveted its arrival into my record collection immediately. For those poor others who haven't had my luck, the glowing green toothless grin of this record finally has a happy home on wax again!" – Jonah Falco (Fucked Up)
The Catatonics were Syracuse and Central New York's first hardcore punk band. Besides pioneering the original 1981/1982 Syracuse Hardcore scene, their classic Hunted Down EP is considered one of the first hardcore thrash/metal crossover releases, right up there with COC or DRI and remains a sought after (and pricey) collectors item 30+ years after its release. Often compared to Jerry's Kids, SSD, Negative Approach and even Slayer, The Catatonics weren't followers or imitators, more like period contemporaries. Although the wait has been decades in the making, Southern Lord Records will be reissuing Hunted Down available on Bandcamp and as a 12" vinyl release with bonus tracks on Record Store Day, April 23rd. All tracks have been remastered from original sources by Brad Boatright.
Listen to Hunted Down's title track on Bandcamp.
Syracuse NY, 1981:
Small town USA, smack dab in the middle of New York State. Although only 5 hours away from NYC, Syracuse and the surrounding area might as well have been 10 years away. Conservative, reactionary, redneck. Reagan's America. It was a pretty barren place for a young, pissed off NYC transplant and hardcore punk rock kid named Belvy to be stuck in. Teaming up with another similar minded transplant from Florida named Joe Miller, the two hit it off, started writing songs and formed what would become The Catatonics. Frustrated at not being in (and envious of) Boston, DC, LA, or NYC – the 4 teenagers that made up The Catatonics did something about it. They took DIY to heart and willed a scene: putting on shows, putting out 'zines, putting out releases and most importantly, aggressively encouraging any and all other Upstate and Central New York kids to create scenes and start bands of their own. To put the Syracuse of 1981/82 in perspective: The Catatonics initial shows would often include street musicians to round out the bills – there just weren't any other punk or hardcore kindred spirits running around (save Cortland's Suburban Rebels/SFB who Belvy also drummed in). And street musicians were at least better than Grateful Dead cover bands. The original Catatonics lineup of Belvy, Joe, and Louie Arrowhead played all over the Syracuse area during late 1981 and 1982. Usually on school nights. (Belvy and Joe's high school class mate Farmer Brown replaced Louie shortly after, with Jeff joining soon after that). Belvy, Joe and Farmer would also routinely get sent home or suspended for wearing Dead Kennedys and Circle Jerks t-shirts to school, sincerely baffled as to how anyone could find this offensive. Nights there wasn't a show (or to celebrate a particularly awesome one), there would be spray painting, breaking and entering, hooliganism, fights, and good natured vandalism. Schools. Bars. Churches. Office Buildings. Bored Teenagers, like the song says. But also curious, ambitious, hungry-for-something-else teenagers.
Fast forward to 1984:
Syracuse/Central New York now boasted a good dozen+ local bands, an indie record store, multiple all ages spaces for shows, and had really begun to make a mark on the national scene. The Catatonics (and crew) busted serious ass and would wind up bringing some of the best punk and hardcore bands of the era to town. Youth Brigade, Black Flag, 7 Seconds, Gang Green, Suicidal Tendencies, Scream, M.I.A, Die Kreuzen, Husker Du, Necros, GBH, Battalion Of Saints and many more all now regularly hit the previous dead zone known as Syracuse/Central New York. The Catatonics (with Syracuse dragged along) had arrived. They became a much more serious and intense band and after putting out 2 or 3 cassette only releases, recorded and self released the 5 song EP Hunted Down which would feature the classic lineup of Belvy, Joe (now 'Jack Shit'), Farmer (switching to 2nd guitar), and new bassist Jeff Jacques. Hunted Down made dozens of 'best of' lists. Maximum Rock & Roll did a feature on the Syracuse scene, and then one on The Catatonics. They appeared alongside big names like The Germs and Misfits on the super influential Flipside Magazine's 2nd compilation LP with arguably their finest moment, Descending In E. Things were looking good. The Catatonics kept gigging hard, blowing away bigger established national acts, getting zine covers and more great press. New material was written, early demos for a full length were underway, talks of a U.S. tour were amidst, and then…
It was gone.
Both musical & personal differences led to The Catatonics breaking up. A lot of it can probably be chalked up to Belvy wanting to go out and see the world and do something bigger (going on to join 7 Seconds, UK Subs, D Generation, Libertine and many more), so who knows what would've happened had they stayed the course. But that was then, this is now and Southern Lord Records will soon be reissuing Hunted Down as a 12" vinyl release with bonus tracks on April 23, 2022.