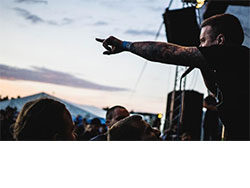 [photo by Déé X Géé]
SECT – founded by members of Cursed, Left For Dead, Catharsis, Undying, Earth Crisis, The Path Of Resistance, Day Of Suffering, Racetraitor, and more — has issued an official video created for the song "Day For Night," which hails from the band's impending second album, No Cure For Death, set for release later this month through Southern Lord.
No Echo has debuted the new video, which was directed by Justin Reich (Black Label Society, Crowbar, Hatebreed) alongside an interview with guitarist Scott Crouse, offering in part, "the video is an all-action affair that captures the intensity of both the band's performance style and the song at hand… the song sounds both massive and mean as fuck."
See SECT's "Day For Night" video at No Echo RIGHT HERE.
Vegan straight edge outfit SECT unites vocalist Chris Colohan (Cursed, Burning Love, Left For Dead), guitarists James Chang (Catharsis, Undying) and Scott Crouse (Earth Crisis, The Path Of Resistance), bassist Steve Hart (Day Of Suffering), and drummer Andy Hurley (Racetraitor, Fall Out Boy, The Damned Things). The result is a caustic, riotous, belligerent style of vile hardcore fed by a boundless well of socio-political vitriol. No Cure For Death was recorded with Kurt Ballou at GodCity Studios and mastered by Alan Douches at West West Side Music.
See footage of the No Cure For Death recording sessions at THIS LOCATION and stream the track "Open Grave" HERE.
Southern Lord will release No Cure For Death on CD, LP, and digital formats on November 24th; find preoder merch bundles HERE.
SECT gets right down to the blast beats and breakdowns that fight it out in their chaotic jams. They cut the shit and go for the throat with no time to waste, "because the Orwellian police states and irreparable social and ecological disasters we once saw off on the horizon are now on our front doorsteps, in full swing. And in just such a volatile, precarious moment as this for civilization, there is more reason than ever to keep lashing out at a world more suicidally-bent on its own destruction and the exploitation of people, species and the ecosystem itself, than perhaps ever before in history."
For SECT, this is the purpose of hardcore as they know it, conveying an urgency that transcends age, credentials or scene politics, to convert desperation into real talk and action.
For review copies of No Cure For Death and interviews with SECT in the Americas contact dave@earsplitcompound.com and in Europe contact lauren@rarelyunable.com.
https://www.facebook.com/SectXVX
http://sectxvx.bandcamp.com
http://www.southernlord.com
http://www.facebook.com/SLadmin
http://twitter.com/twatterlord
https://southernlord.bandcamp.com