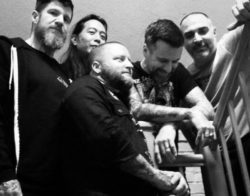 American/Canadian vegan straightedge outfit SECT – its members also hailing form the likes of Cursed, Left For Dead, Catharsis, Undying, Earth Crisis, The Path Of Resistance, Day Of Suffering, Racetraitor, and more – continues to support their second LP, No Cure For Death, announcing a fall European Tour.SECT will play a one-off show in New York City on September 22nd, joining Pig Destroyer, Despise You, and Full Of Hell. SECTthen makes their return to Europe in November on a co-headlining tour with Southern Lord labelmates Gust. The trek begins in London on November 4th with shows in Belgium, Germany, Czech Republic to follow through November 11th, ending in Hamburg.
Stream No Cure For Death at Bandcamp HERE and see SECT's "Day For Night" video directed by Justin Reich (Black Label Society, Crowbar, Hatebreed) at THIS LOCATION.
SECT Tour Dates:
9/22/2018 Grammercy Theatre – New York, NY w/ Pig Destroyer, Despise You, Full Of Hell
European tour w/ Gust:
11/04/2018 The Black Heart – London, UK
11/05/2018 Eglantier – Berchem, BE
11/06/2018 Juha West – Stuttgart, DE
11/07/2018 Faust – Hannover, DE
11/08/2018 Cassiopeia – Berlin, DE
11/09/2018 Theremin – Prague, CZ
11/10/2018 Junkyard – Dortmund, DE
11/11/2018 Hafenklang – Hamburg, DE
Unloading a brutalizing barrage of grinding crust and metallic hardcore wrath, SECT unites vocalist Chris Colohan (Cursed, Burning Love, Left For Dead), guitarists James Chang (Catharsis, Undying) and Scott Crouse (Earth Crisis, The Path Of Resistance), bassist Steve Hart (Day Of Suffering), and drummer Andy Hurley (Racetraitor, The Damned Things). No Cure For Death was recorded with Kurt Ballou at God City studios, mastered by Alan Douches at West West Side Music. Fueled by socio-political vitriol, for SECT, the purpose of hardcore as they know it is to convey an urgency that transcends age, credentials or scene politics, to convert desperation into real talk and action.
No Cure For Death is out now on LP, CD, and digital formats; find merch bundles via Southern Lord's US webshop HERE and Euro store HERE, and find the record at iTunes HERE, Spotify HERE.
"the album finds the scene vets taking a stand against the sociopolitical status quo… The doomsday clock is ticking, and there's no time to waste." – Revolver Magazine
"the metallic hardcore is filthy and sinister, laden with a guitar tone resembling a power tool and with feedback akin to the noise one would make scraping on steel." – Exclaim!
"The pedigree of SECT is incredible. Stacked with hardcore punk vets in each slot, their five contributors have cultivated a rich history, but none seems interested in touting any one single member's past. The music and, more importantly, the message are immediate, harvesting concern and motivating fury from the present tense. Blasting ugly, confrontational D-beat crustcore, steeped in savage commentary regarding society's conflicts…" – New Noise Magazine
"the video is an all-action affair that captures the intensity of both the band's performance style and the song at hand… the song sounds both massive and mean." – No Echo
"The album was produced by Converge's Kurt Ballou, so you should know what it's going to sound like already – total fucking Armageddon." – Metal Injection
For review copies of No Cure For Death and interviews with SECT contact dave@earsplitcompound.com and in Europe contact lauren@rarelyunable.com.
https://www.facebook.com/SectXVX
http://sectxvx.bandcamp.com
http://www.southernlord.com
http://www.facebook.com/SLadmin
http://twitter.com/twatterlord
https://southernlord.bandcamp.com