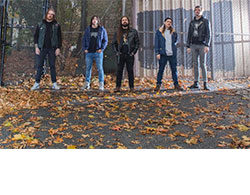 Texas' POWER TRIP has released their official video for "Executioner's Tax (Swing Of The Axe)" through an exclusive premiere at Noisey. The band continues to tour the planet in support of their Nightmare Logic LP, as they are currently torching the West Coast of North America and will head to Europe in the coming weeks. POWER TRIP's new video for their hit single "Executioner's Tax (Swing Of The Axe)" takes us front and center, into the eye of what is guaranteed to be a perfect storm time and time again. The footage, captured at a spirited hometown show in Dallas, Texas melts with clips of political propaganda which encompass vocalist Riley Gale's lyrics that hone in on the devaluation of human life by those who've gained power through money and politics. The video was directed by Andy Capper (Vice, Noisey) with director of photography Joel Pront, and editor Andrew Betsch.
See POWER TRIP's "Executioner's Tax (Swing Of The Axe)" video at Noisey RIGHT HERE.
Nightmare Logic is out now on Southern Lord; stream the record at Youtube HERE, Spotify HERE, and iTunes HERE and find ordering options at THIS LOCATION.
After a wild, sold out East Coast/Midwest tour, POWER TRIP is currently taking over West Coast this month with Destruction Unit. Highlights include Los Angeles, Portland, Denver, Vancouver, and more just before they head to Europe with Napalm Death and Brujeria. Check below for a full list of dates.
POWER TRIP hit hard last month with their most powerful effort yet; Nightmare Logic. Released to high critical acclaim and anticipation, their sophomore release does not disappoint. With hooks and tightness rivaling greats like Metallica, Pantera, or Pentagram, POWER TRIP punishes fans not only sonically but with pure songwriting skill. Nightmare Logic proves to be one of the year's smartest and most crucial releases to spawn from the metal and punk scenes.
"You don't need to be a metalhead to have a blast with Nightmare Logic… POWER TRIP's fist-pumping choruses, ricocheting grooves, and ample charm are so animated that they leave us with something addictive and, well, fun." – Pitchfork / Best New Music
"…possesses a certain monolithic quality Lemmy would admire: a massive rawness and a sludgy, heavy hopelessness that thrashes with punk immediacy and metal intricacy…it's a track preparing for war." – NPR
"…one of the most highly anticipated records in aggressive music in recent memory…" – The New Yorker
POWER TRIP:
3/28/2017 Marquis Theater – Denver, CO w/ Destruction Unit, Call Of The Void, Primal Rite
3/29/2017 Beehive Social Club – Salt Lake City, UT w/ Destruction Unit, Primal Rite
3/30/2017 WavePOP House – Boise, ID w/ Destruction Unit, Primal Rite
3/31/2017 Real Art Tacoma-The Deal – Tacoma, WA w/ Destruction Unit, Primal Rite. Gag
4/01/2017 Astoria – Vancouver, BC w/ Destruction Unit, Primal Rite, Gag
4/02/2017 Analog Theater – Portland, OR w/ Destruction Unit, Gag
4/04/2017 Arlene Francis Center – Santa Rosa, CA w/ Destruction Unit, Mizery
4/05/2017 Thee Stylehouse – Stockton, CA w/ Mizery
4/06/2017 The New Parish – Oakland, CA w/ Destruction Unit, Primal Rite, Mizery
4/07/2017 The Ritz – San Jose, CA w/ Destruction Unit, Mizery,
4/08/2017 Teragram Ballroom – Los Angeles, CA w/ Destruction Unit, Mizery
4/09/2017 Constellation Room – Santa Ana, CA w/ Destruction Unit, Mizery
4/10/2017 The Casbah – San Diego, CA w/ Destruction Unit, Mizery
4/11/2017 Rebel Lounge – Phoenix, AS w/ Destruction Unit, Mizery, Gatecreeper
4/12/2017 Club Congress – Tucson, AZ w/ Destruction Unit, Mizery, Gatecreeper
4/25/2017 Amager Bio – Copenhagen, DK w/ Napalm Death, Brujeria
4/26/2017 Pustervik – Gothenburg, SE w/ Napalm Death, Brujeria
4/27/2017 Kraken STHLM – Stockholm, SE w/ Napalm Death, Brujeria
4/28/2017 Roxy – Flensburg, DE w/ Napalm Death, Brujeria
4/29/2017 Flensburg – Magdeburg, DE w/ Napalm Death, Brujeria
4/30/2017 Patronaat – Haarlem, NL w/ Napalm Death, Brujeria
5/01/2017 Underground – Koln, DE w/ Napalm Death, Brujeria
5/02/2017 SO36 – Berlin, DE w/ Napalm Death, Brujeria
5/04/2017 Kwadrat Club – Krakow, PL w/ Napalm Death, Brujeria
5/05/2017 Klub Fléda – Brno, CZ w/ Napalm Death, Brujeria
5/07/2017 Garage – Saarbrücken, DE w/ Napalm Death, Brujeria
5/09/2017 O2 Institute – Birmingham, UK w/ Napalm Death, Brujeria
5/10/2017 Classic Grand – Glasgow, UK w/ Napalm Death, Brujeria
5/11/2017 Rebellion – Manchester, UK w/ Napalm Death, Brujeria
5/12/2017 The Electric Ballroom – London, UK w/ Napalm Death, Brujeria
5/13/2017 Le Glazart – Paris, FR w/ Napalm Death, Brujeria
5/14/2017 Zappa – Antwerpen, BE w/ Napalm Death, Brujeria
5/16/2017 Espace André Malraux – Six Fours Les Plages, FR w/ Napalm Death, Brujeria
5/17/2017 L'Usine – Geneva, CH w/ Napalm Death, Brujeria
5/18/207 Zona Roveri – Bologna, IT w/ Napalm Death, Brujeria
5/19/2017 NCO Club – Karlsruhe, DE w/ Napalm Death, Brujeria
5/20/2017 Backstage – München, DE w/ Napalm Death, Brujeria
5/21/2017 Effenaar – Eindhoven, NL w/ Napalm Death, Brujeria