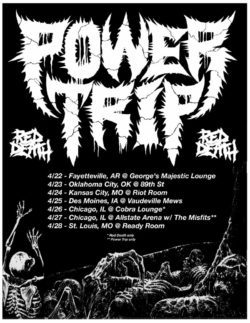 Texas crossover outfit POWER TRIP today kicks off a tour across the Midwest with support from their allies in Red Death, with shows in Oklahoma City, Kansas City, Des Moines, and St Louis this week. The shows surround POWER TRIP's spot supporting The Original Misfits as well as Fear and Venom Inc. at the massive Allstate Arena in Rosemont, Illinois this Saturday, April 27th.
POWER TRIP has additional shows booked through the year, including stateside festival sets at Dark Lord Day with High On Fire and Nuclear Assault, Trouble N' Texas Fest with Bitter End, Sound & Fury Festival with Have Heart, Fury, and Fiddlehead, Psycho Las Vegas with Yob, High On Fire, and Glassjaw, and the newly-confirmed Exit 111 Festival with Def Leppard, ZZ Top, and Mastodon. The band will return to Europe as well this June to play the Donnington Park Circuit, Plein Air, and more.
Watch for many more new POWER TRIP tour dates to be announced in the weeks ahead.
POWER TRIP's Southern Lord-released breakthrough album, Nightmare Logic, has earned praise from The New Yorker to Pitchfork's Best New Music, to countless best-of/year-end lists. The band was awarded the Best Metal Album Of The Year from Loudwire and song placement in the WWE. Touring relentlessly, the band has headlined tours across North America, Europe, and Japan last year, recently supported Danzig on several US shows, had a track used in an episode of the YouTube Premium series Wayne, and was featured on the cover of Decibel Magazine's February 2019 issue.
Find POWER TRIP's Nightmare Logic LP at the Southern Lord webshop HERE and via Bandcamp HERE.
POWER TRIP:
4/23/2019 89th Street – Oklahoma City, OK w/ Red Death
4/24/2019 Riot Room – Kansas City, MO w/ Red Death
4/25/2019 Vaudeville Mews – Des Moines, IA w/ Red Death
4/27/2019 Allstate Arena – Rosemont, IL w/ The Original Misfits, Fear, Venom Inc. [info]
4/28/2019 Ready Room – St Louis, MO w/ Red Death
5/18/2019 3 Floyds Brewing – Munster, IN @ Dark Lord Day w/ High On Fire, Nuclear Assault
5/30/2019 Paper Tiger – San Antonio, TX w/ Bitter End, Hardside, Saintpeeler
6/01/2019 Trouble N' Texas Fest – Dallas, TX w/ Bitter End
6/16/2019 Donnington Park Circuit – Derby, UK [info]
6/23/2019 Plein Air – Dessel, FR [info]
6/28/2019 Suvilahti – Helsinki, FI [info]
7/12-13/2019 Sound & Fury Festival – Los Angeles, CA w/ Have Heart, Fury, Fiddlehead
8/16-18/2019 Psycho Las Vegas – Las Vegas, NV w/ Yob, High On Fire, Glassjaw
10/12/2019 Exit 111 Festival – Manchester, TN w/ Def Leppard, ZZ Top, Mastodon
For coverage of POWER TRIP in North America contact dave@earsplitcompound.com and internationally contact lauren@rarelyunable.com.