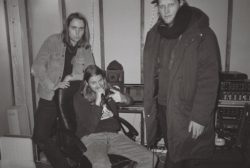 Norwegian rockers Okkultokrati reveal a trio of live dates on the horizon in Sweden and Denmark, where they shall be road testing new material that they are currently working on. Their previous acclaimed album Raspberry Dawn was released via Southern Lord in 2016 – more on that album below.

OKKULTOKRATI LIVE DATES:
February 14: Gothenburg @ Musikens Hus
February 15: Aalborg @ 1000Fryd 
February 16: Copenhagen @ Musikcafeen
More info on Raspberry Dawn below…
While paying homage to their native 1990s black metal heritage, the cinematic synth/goth rock of the prior decade, and the raging early punk movement ahead of that, Okkultokrati still manages to create sincerely original and infectious music through every bar of Raspberry Dawn, resulting in a starkly raw and original sounding album. 
STREAM OKKULTOKRATI'S RASPBERRY DAWN
On Raspberry Dawn, Okkultokrati thrusts the heretic rock and roll that they have cultivated since their 2008 inception into more extraordinary situations. Classic '70s riffing, snotty punk, and brash, old-school metal are inventively mixed with pulses and spikes of darkwave and ice cold, psychedelic repetition. They execute these infectious tunes effortlessly, playing with the attitude they retained from their roots in rural hard rock attitude, and busting a propulsive stomp that aligns them closer to the clarity of recordings from decades past, also exemplified by spring reverb twangs that ping across the mix like rubber bands. With organ touches, violent slaps of static, and blown out sci-fi overtures backed by the band's preexisting taste for the curious and the macabre, amping-up both the drama and the feel-good extremes that they have always lathered their sound in, Raspberry Dawn is weird, wired, and quite possibly the holy grail for those looking for radical rock reinvention and new sensations in the current era.
PRAISE FOR RASPBERRY DAWN:
"Norway's Okkultokrati takes the age-old black metal imprint of snarling Venom-style vocals and general nihilism, and updates the proceedings with fresh approaches that employ punk, hardcore, death metal, goth and much more. The new record is more evolution for the band, as the general doom and gloom has been replaced by almost sunny (but still chainsaw-like) riffs and more melody. Imagine Motörhead at their beer-raising fun best, but with synths, occasional piano, and more, then you may have the idea…" – CLRVYNT
"The song (Hard To Please, Easy To Kill) offers nostalgia for those who went through a powerful goth phase in high school, while offering a vision into an alternate timeline when the '80s never ended, only got weirder. It must be heard to be believed…" – INVISIBLE ORANGES
"If you were to lock Ian Curtis, Robert Smith, Mat McNerney and Fenriz in a recording studio for 24 hours then this would likely be the musical fallout." – AVE NOCTUM
"Raspberry Dawn carries such a manic energy and flamboyant disregard for what's expected of it that it is arguably both the most interesting and defiantly punk rock statement the band has made thus far." – THE QUIETUS

"Commendably individual, and coated in a dirty film of fuzz." – TERRORIZER
www.facebook.com/okkultokrati
www.okkultokrati.bandcamp.com
www.okkultokrati.blogspot.com
www.southernlordeurope.com
www.southernlord.bandcamp.com
www.facebook.com/SLadmin
www.twitter.com/twatterlord