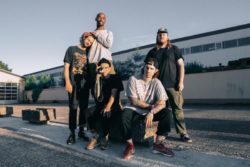 Philadelphia's JESUS PIECE premieres their new single "Punish" through Cvlt Nation, as the band's Only Self debut LP nears release later this month via Southern Lord.
Only Self was recorded in Chicago at Bricktop Recording Studio with Andy Nelson (Weekend Nachos, Like Rats, Dead In The Dirt) mastered by Brad Boatright at Audiosiege (Integrity, Nails, Xibalba), and completed with artwork by Dom Pabon.
With the premiere of "Punish," Cvlt Nation declares, "It was a long wait for a full length from JESUSPIECE. This record was absolutely worth the wait. Only Self is hardcore music at its finest. The songwriting, the metallic production, the lyrical content – it's all so cohesive. When I first learned who JP was, I was glued to the internet for a few weeks watching live videos of a band that is uncompromisingly heavy. It's a beautiful thing when a band's live reputation stacks up to their album. This release is the next chapter in what will hopefully be a reign of unending terror for years to come."
JESUS PIECE vocalist Aaron Heard simply offers, "'Punish' is aggression."
Stream "Punish" from JESUS PIECE at THIS LOCATION.
Southern Lord will release Only Self on CD, LP, and digital formats on Friday, August 24th. Find digital preorders at Bandcamp where "Curse Of The Serpent" and "Neuroprison" are streaming HERE, and find physical preorder options HERE.
A band which works tirelessly to play to everyone they can, the anthems of JESUS PIECE tackle topics of personal struggle and loss, to socio-political matters including racism, police brutality, and other injustices. The band formed in 2015 and self-released their first demo/EP in the same year, followed by a self-released EP in the Summer of 2016. Bridge Nine Records released a split 7″ between JESUS PIECE and Malice At The Palace in early 2017. The band has paved their own way into the national scene by booking multiple headlining coast-to-coast tours among many bouts of regional touring and performances at notable festivals including This Is Hardcore, Nature World Fest, Sound And Fury, FYA Fest, and others.
JESUS PIECE is quickly developing a reputation as one of the heaviest, most uncompromising acts both on record and on the stage. With the brutalizing grooves of Disembodied, Turmoil, Harm's Way, and labelmates Xibalba, the band incorporates elements of noise, ominous tones, and haunting atmospheres into their dynamic songwriting. With crushing, modern production, the eleven new tracks on their Only Self debut LP place JESUS PIECE among the scene's darkest and heaviest acts and delivers one of the most anxiously-awaited albums of the hardcore/metal underground this year with Only Self, a record which proves itself as one of the year's most vicious releases.
JESUS PIECE has toured mercilessly alongside Darkest Hour, Comeback Kid, Burn, Knocked Loose, Terror, Vein, Year Of The Knife, and many more across North America and Europe over the past year, and just made their vicious return to This Is Hardcore. Watch for new tour dates for JESUS PIECE to continually to be announced throughout the year in support of Only Self.
For review copies of Only Self and interviews/coverage of JESUS PIECE in The Americas contact dave@earsplitcompound.com and internationally contact lauren@rarelyunable.com.
https://twitter.com/jesuspiecehc
https://www.instagram.com/jesuspiecehc
https://jesuspiecehc.bandcamp.com
http://www.southernlordeurope.com
http://southernlord.bandcamp.com
http://twitter.com/twatterlord