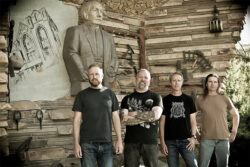 The ever-evolving and adventurous collective Iceburn offer another preview of their upcoming album, Asclepius (Southern Lord, June 25) – "Healing The Ouroboros" is one of two long-form tracks on the album, driven by monolithic riffs, swirling harmonies, and a wicked groove, with lyrics that reference classic mythology.
Much like the mythical ouroboros that appear in their music, Iceburn have come full circle, embracing early influences and tapping into the foundations of their sound, as Gentry Densley comments, "Iceburn had always been about progressing and pushing the boundaries, pushing the music ahead of ourselves so we had to work to catch up. This new record comes from a place of rediscovery of who we are deep down, a place that with all its challenges and comforts, ultimately feels like home."
Watch (+ share) Iceburn's "Healing the Ouroboros" (excerpt) teaser video on YouTube.
Revisit the teaser video for companion track "Dahlia Rides the Firebird" here.
The line-up on Asclepius represents the core of Iceburn through the early formative years. Iceburn, later the Iceburn Collective, initially existed from 1990 to 2001. Later reuniting in 2007 with this current lineup again at the core. The band's initial output slowly evolved from hardcore and metal to free improvisation and noise, The 10 year arc saw the band following their own path and becoming more and more obscure as they got deeper into unknown musical worlds. By 2000 the cycle seemed complete and Iceburndid their final tour in Europe 2001. In 2007 this early core crew reunited to play a local anniversary show focused on the earliest material. Every few years since they would get together for another 'reunion' until that word became more of a joke, it was clear the band was back, getting together every week, and working on new material.
ICEBURN LINE UP:
Joseph 'Chubba' Smith – drums, founding member of Iceburn from 1990-'93 then 2007-present
James Holder – guitar, was also a founding member from '90-'95 and '07 to present
Cache Tolman – bass, '91-97 off and on, and '07 to present
Gentry Densley – guitar and vocals, 1990 to present
Asclepius was recorded and engineered by Andy Patterson (SubRosa, INVDRS, Insect Ark, and The Otolith) a collaborator also for Gentry's other band's Eagle Twin and Ascend.
Asclepius, Track Listing:
1) Healing The Ouroboros
2) Dahlia Rides the Firebird
Pre-order Asclepiusvia BANDCAMP, SOUTHERN LORD & SOUTHERN LORD EUROPE