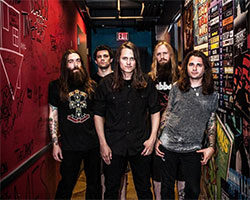 Washington, DC-based metal quintet DARKEST HOUR has filmed an official video for the song "Enter Oblivion", which hails from their eleventh LP, Godless Prophets & The Migrant Flora, released in 2017 through Southern Lord. The new video has been issued through an exclusive premiere at Noisey, as the band prepares to embark on a new run of tour dates on two continents.
The new video for "Enter Oblivion" was directed by DARKEST HOUR vocalist John Henry with director of photography Ben Hoffman and produced and edited by Chad Fjerstad. Henry states on filming the video, "I wanted to find a location that I felt would represent the nomadic theme of the song. When I came across Rainbow Basin outside of Barstow I immediately knew it was the right spot. There's a real beauty about the bleakness and harshness of the desert which stands out as the true star of the video."
Adds guitarist Mike Schleibaum, "We chose the song 'Enter Oblivion' because it shows a different side of the album then we first presented. This song sits in the middle of the album and although it doesn't crush with the same speed as the others it presents a depth that is all its own. The style of this song really allows for the band to breath sonically and the production of Kurt Ballou to really stand out on this track, especially in those drums! This is song for those who live outside of the borders of man and the laws of nature. For those who have found themselves in the act of constantly searching."
Noisey notes with the premiere, "The quest that DARKEST HOUR, the D.C. melodeath warriors, have been on for more than two decades is one that is wholly about tearing faces off with precision, intent, and riffs. The band's most recent album, last year's great Godless Prophets And Migrant Flora, showcased them knowing exactly what kind of music they wanted to make and how to make it."
See DARKEST HOUR's "Enter Oblivion" at Noisey RIGHT HERE.
Produced by Kurt Ballou (Converge) at his Godcity studo, Godless Prophets & The Migrant Flora continues to solidify the long-running DARKEST HOUR's legacy as a major metal powerhouse. Raw, complex, melodic, yet cutting with razor blade precision, Godless Prophets & The Migrant Flora is a fierce album which shows the long-running band as lethal and ravenous as ever.
Godless Prophets & The Migrant Flora is available on CD, black vinyl LP, picture disc LP, and all digital platforms via Southern Lord; find ordering options at the label's webstore HERE, and via Bandcamp HERE.
Following several crushing runs through different regions of North America in support of the album, DARKEST HOUR is about to embark on the first of two new upcoming tours in two weeks. Beginning February 16th, the band will storm across the eastern US through February 25th, with support from Whores and Extinction A.D.
DARKEST HOUR has also announced another new tour in recent days, which sees them hitting Europe this Spring. The tour runs from April 5th and runs all the way through the 29th and sees them paired with Cephalic Carnage and Harlott supporting Havok.
DARKEST HOUR w/ Whores, Extinction A.D.
2/16/2018 The Canal Club – Richmond, VA
2/17/2018 Arura Fest – Savanah, GA
2/18/2018 The Basement East – Nashville, TN
2/19/2018 Trixies – Louisville, KY
2/20/2018 Bogarts – Cincinnati, OH
2/21/2018 Emerson Theater – Indianapolis, IN
2/22/2018 Reggies – Chicago, IL
2/23/2018 The Loft – Lansing, MI
2/24/2018 Photo City – Rochester, NY
2/25/2018 Cattivo – Pittsburgh, PA
w/ Havok, Cephalic Carnage, Harlott:
4/05/2018 Kulttempel – Oberhausen, DE
4/06/2018 Musik & Frieden – Berlin, DE
4/07/2018 Hellraiser – Leipzig, DE
4/08/2018 Café Central – Weinheim, DE
4/09/2018 Nova Chmelnice – Prague, CZ
4/10/2018 Durer Kert – Budapest, HU
4/12/2018 Z-Bau – Nürnberg, DE
4/13/2018 Kiff – Aarau, CH
4/14/2018 CCO Villeurbanne – Lyon, FR
4/15/2018 Bóveda – Barcelona, ES
4/16/2018 Caracol – Madrid, ES
4/17/2018 Custom – Sevilla, ES
4/18/2018 Lisboa Ao Vivo – Lisbon, PT
4/20/2018 Totem – Pamplona, ES
4/21/2018 Secret Place – Montpellier, FR
4/22/2018 Petit Bain – Paris, FR
4/23/2018 Underworld – London, UK
4/24/2018 Voodoo Lounge – Dublin, IE
4/25/2018 Cathouse – Glasgow, UK
4/26/2018 Asylum – Birmingham, UK
4/27/2018 Zappa – Antwerp, BE
4/28/2018 Faust – Hannover, DE
4/29/2018 Backstage – München, DE
For tour coverage of DARKEST HOUR, in North America contact dave@earsplitcompound.com and in Europe contact lauren@rarelyunable.com.
http://officialdarkesthour.com
https://www.facebook.com/DarkestHourDudes
https://twitter.com/darkesthourrock
http://www.southernlord.com
http://southernlord.bandcamp.com
http://twitter.com/twatterlord
https://www.facebook.com/SLadmin