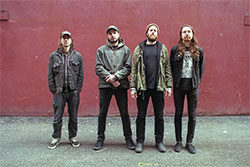 [photo by Ryan Walter Wagner]
Vancouver's BAPTISTS announce their third full-length album, Beacon Of Faith, now confirmed for release through Southern Lord on May 25th. The album's brooding "Capsule" has been made available for streaming.
Beacon Of Faith broadly follows the same trajectory as the album's predecessors, Bushcraft (2013) and Bloodmines (2014) – combining the style of raw adrenaline-fueled emotion, venomous vocal delivery, gigantic guitar sound, and a visceral rhythmic propulsion – a sonic manifestation of desolate rage, bolstered by a palpable sense of urgency. The album is densely-packed, yet BAPTISTS' sound is far from claustrophobic. There is melody amongst the dissonance, as the band more deeply explore the noise rock vistas that have always underpinned their sound.
Lyrics are drawn from the members' direct experience of a broken society and general discontentment with everyday life. A multitude of issues are in the firing line, from the Canadian court system, issues surrounding substance abuse, mental health, and how the more fortunate, "tend to dismiss people who have been dealt a less-fortunate hand," as guitarist Danny also reflects.
Beacon Of Faith was recorded at Godcity in Salem, Massachusetts with Kurt Ballou in July 2017, and mastered by Brad Boatright at Audiosiege in Portland, Oregon.
Hear BAPTISTS' "Capsule" now at THIS LOCATION.
Southern Lord will release Beacon Of Faith on all formats on May 25th; watch for additional updates in the weeks ahead.
"Capsule" Lyrics:
Passing cheeks
A faucet's drip
The right amount to
Anoint the pit
Saturation
Prevents the clunk
But I want to feel it
As it goes down
Taste what's going to move me
Before I
Have fucking changed
The tablet drops
An essence seeps
Past consumption
Post misuse
Destination
Informed conceit
A planned reprieve
From culture's feats
Beacon Of Faith Track Listing:
1. Worse Than Hate
2. Absolved Of Life/Spent Cells
3. Beacon Of Faith
4. Gift Taker
5. Capsule
6. Outbreeding
7. Vicarious Trauma
8. Victim Services
9. Indigo Child
10. Eulogy Template
11. Bevel Down
12. Carbide
13. Nostrovia
BAPTISTS:
Andrew Drury – vocals
Danny Marshall – guitar
Sean Hawryluk – bass
Nick Yacyshyn – drums
Beacon Of Faith review copies will be released shortly; for all coverage of BAPTISTS in the Americas contact dave@earsplitcompound.com and otherwise contact lauren@rarelyunable.com.
http://baptists.bandcamp.com
http://www.facebook.com/pages/BAPTISTS/111676572202547
http://www.southernlord.com
http://southernlord.bandcamp.com
http://www.facebook.com/SLadmin
http://twitter.com/twatterlord