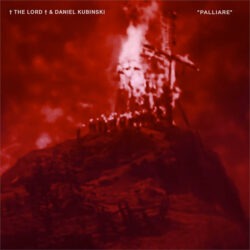 In celebration of Bandcamp Friday, †The Lord† (Greg Anderson) and Daniel Kubinski (Die Kreuzen, The Crosses) have released their haunting collaborative track, "Palliare." Long circling each other with reverence, Anderson and Kubinski teamed up to track guitars and vocals for the song late last year; the former recorded with Brad Wood at Sea Grass and the latter at Howl Street Studios. The end result is nothing short of venomous, with caustic, corrosive vocals and massive, monolithic guitar. The "Palliare" composition itself was inspired by "an empathetic attempt to interpret the despair of someone in palliative care," comments †the Lord†.
Watch / share the "Pallaire" music video (directed by Regan Hagar) on YouTube.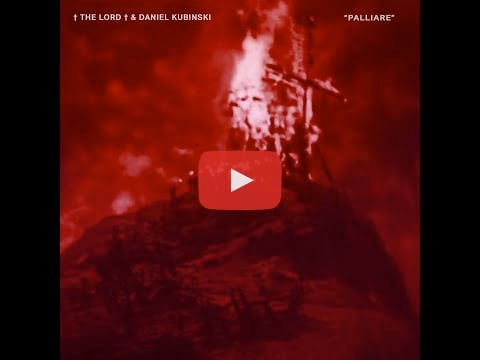 Listen / watch / share "Palliare" on Bandcamp.
Daniel Kubinski comments on the track: "The lyrics for 'Pallaire' were actually written in 2016 when the first line up of The Crosses were writing songs for an original LP. The lyrics were for a song entitled 'Goner' which was kind of a noisy, lightning speed, crazy song that sounded somewhat like the Birthday Party if they had written a hardcore song. I had always liked the lyrics so when the Crosses split up in 2017 (the first inception of the group) I held on to the lyrics hoping to use them for something else down the road."
He continues, "In 2022 Sunn O))) guitarist and Southern Lord founder Greg Anderson approached me and invited me to sing on one of his songs for his project, The Lord. The first time I heard the song Greg sent me, I immediately remembered the Goner lyrics and thought they might work for the song, they were a perfect fit! I am so proud to be part of The Lord family and that Greg and Southern Lord believed in me to come up with the goods."
†the Lord† adds: "I've been a massive fan of Daniel Kubinski ever since I heard his caustic vocals in Die Kreuzen circa 1985. While the musical direction of Die Kreuzen changed drastically over the years, it was always anchored by Daniels' unique, innovative vocal style. Massive respect to him for simultaneously blazing a unique path and breaking new ground. I finally got to meet Daniel when Sunn O))) played with his current band, The Crosses, in Milwaukee at the Turner Ballroom. I was equally blown away by his performance that evening as well as his humility and kindness."